'Mom! Where are my fresh socks?'
'Didi! Why didn't you scrub my shirt's collar? It's still grimy!'
'Dad! If you see mom ask her to keep my football uniform ready, I need it tomorrow!'
Are these conversations that happen in your household on a regular basis? Do you sense something wrong with the above conversation? If yes, Join #ShareTheLoad – by blogging about this prejudice being passed down to the next generation. Tell us why it is important to address this by setting the right example and role model at home itself.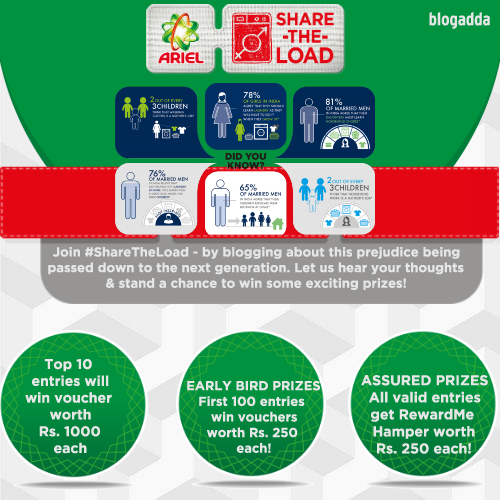 How many times have you seen children asking only their mothers to wash their clothes? How many times have you seen little girls being asked to take an active interest in doing the laundry because they will need to do it when they grow up? This is not just an assumption. A survey conducted by a third party for Ariel reveals some statistics that show a bleak future. Check them out below.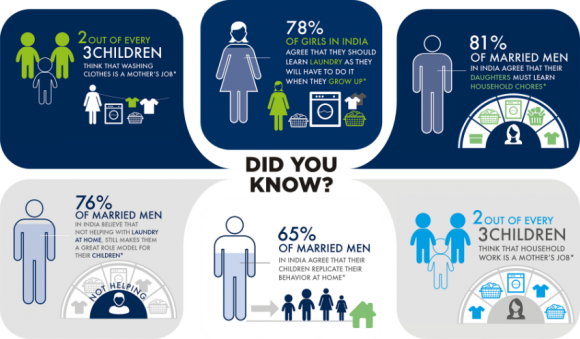 Most households are of the collective opinion that doing any household chore, especially laundry, is a woman's job. Ariel and BlogAdda fought the imbalance within the household by asking #IsLaundryOnlyAWomansJob and asking men to #ShareTheLoad a while back. And now it's time to think of a long term solution to this problem by nipping the prejudice at the bud.
We're sure each of you have had an experience related to such household inequality. Children learn what they see and what they are taught by their parents. So if they see that household chores are the exclusive domain of women, they will carry this prejudice well into adulthood. Tell us how you think these faulty learnings are passed on to the younger generation. Also give us your opinion about how important it is to end this prejudice by giving them the right values at home itself. Join the Ariel #ShareTheLoad campaign and win exciting prizes!
Prizes:
Top 10 blog posts win vouchers worth Rs. 1000 each!
First 100 valid entries will get assured vouchers worth Rs. 250 each!
Every valid entry gets a RewardMe hamper worth Rs. 250!
Click on the button below to submit your entry!
Mandates for the activity:
1. The word limit for every blog post is a minimum of 400 words.
2. Please include the line, "I am joining the Ariel #ShareTheLoad campaign at BlogAdda and blogging about the prejudice related to household chores being passed on to the next generation."
3. Only blog posts submitted through this form will be considered valid.
4. The last date for submission of this blog post is midnight, 11th March 2016.
5. One blogger can write a maximum of 2 blog posts for this activity.
6. Please embed the below video in your blog post for it to be valid.
So tell your personal story, something you have seen in households, give us your opinion and add your powerful voice to the Ariel #ShareTheLoad activity at BlogAdda!