LG NEXUS 5X gave the BlogAdda bloggers a lifetime opportunity to explore their city like never before and with a good reason. The bloggers had the privilege to have a hands on experience with LG NEXUS 5X and see their city through the lens of the new smartphone. We had some amazing entries from our bloggers for #ChampInCity activity and it is now time to announce the winners for this activity.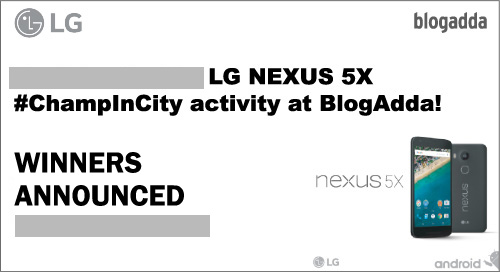 The bloggers who win the #ChampInCity activity are as below:
First Prize: TelecomTalk.info who wins a a cool LG NEXUS 5X phone and a cash prize of Rs. 25,000
Second Prize: Nitika Bhatia who wins a voucher of Rs. 25,000
Congratulations to both the bloggers. Keep blogging and participating in contests at BlogAdda!