There are very few women whose eyes don't sparkle when they see beauty products in a store. While this interest in beauty is an occasional indulgence for most, Dollie Solanki turned her passion into Indian Shringar, the leading Make Up & Skin blog in India. The USP of her blog is that Dollie uses this platform to blog about travel and books apart from detailed reviews, OOTDs, trying out new products and more. Dollie also won the 'Best Beauty & Skin Blog in India' at the #WIN15 Blog Awards. We quizzed Dollie about her idea of beauty, her skin secrets and her thoughts on blogging. Read this beautiful interview below.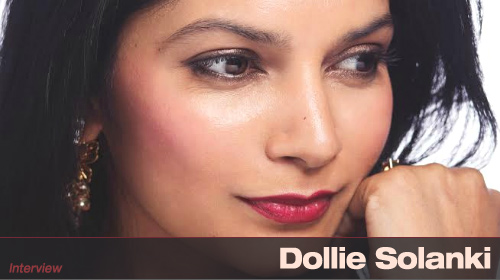 Q. First off, tell us what's your definition of Shringar and its importance in a woman's life.
Shringar is the Sanskrit term that, in the micro sense, refers to the art of beautifying oneself and grooming, but in its macro sense actually means adding beauty to one's life and surroundings. And why only women? Grooming is important for men as well. The simple act of beginning the day with a bath, no matter what the season, is also a part of Shringar and India was almost the only country in ancient times where people bathed daily, even in chilly winters. Importance has always been given to one's grooming and personal hygiene and that is also Shringar. Whether people acknowledge it by the term Shringar or not, it is an integral part of everyone's life; be it an old lady oiling her hair or a young man trimming his beard…it is all Shringar.
Q. Tell us how you started blogging. What sparked the idea of writing a blog about skin and fashion? Do you remember your first brush with make up?

I have been fascinated with beauty products ever since I can remember. My mom had this makeup case with eye shadows and blushes in it which I loved to play with. When she was going to throw it away because it was past shelf life, I took it and used it to apply makeup on my dolls! When I entered college, my fascination for skincare products started and I read up lots on it. Even at that young age, my friends and family would come to me with their skincare questions and would ask for product recommendations.
Starting my blog was an impulsive decision when one day, when my younger son was 2, I thought it would be a good way of sharing information with a wider audience. Things like 'what to look for in sunscreens, how acids can be beneficial for your skin', are things people need to know and a blog is the best way of sharing that information.
Q. What are the challenges that you faced in the initial years as a beauty blogger? How did you overcome them?

The biggest challenge of all was the very medium I was writing in. This wasn't simply penning down my thoughts on a paper with a pen! From taking good pictures to the layout of the blog to SEO, I had no clue about anything. Blogging has been a learning experience, one that teaches me new things every single day.
Q. Tell us about your blogging schedule. How do you decide what goes next on your blog?

There is no schedule. I do need to start planning my posts and having a proper schedule but right now, it is all about blogging when I have the time in the midst of my daily routine. No matter how many times I try to schedule posts for when I'm travelling, it simply doesn't happen. I need to improve my time management for that.
Q. You dabble in reviews, beauty tips, travel posts, book reviews, and much more in your blog. How do you take out time for all of this and plan your blog posts in all these categories?

As I mentioned, there isn't any real planning that goes into organizing my posts. It is all pretty impulsive and depends on what I 'feel like writing about' at that time. Most of the times, I take pictures of the products in the morning when the kids are at school, edit them while in the car on my way to pick them up/take them for football etc, and write the post at night after they are asleep and everyone's dinner is done.
Q. Do you feel a sense of responsibility when you do reviews? What do you do to ensure that your reviews are honest and objective?

Of course I am responsible to my readers to provide them with honest feedback. That said, it is also true that there's no 'One Size Fits All' in beauty products. What works for me might not work for someone else and what another person loves might turn out to be something I hate. I try to list down the pros and cons of the product and also mention for what skin types /tones a certain product would work for and for whom it might not.
Q. What is your take on monetization of blogs? How does one remain true to readers and still make blogging profitable?

Monetization is very important because everyone has expenses they need to take care of. However, we increasingly see blogs with nothing but sponsored content and that does put one off. For me, I am more passionate about the products and don't focus on the monetary aspect. I blog because it gives me pleasure, not money. In fact, I don't even have adsense on my blog as yet.
Q. What is your reaction to winning the #WIN15 Blogging Award? Did you expect it?

I was of course, super thrilled! It is an amazing feeling to have your efforts and work appreciated on a national platform!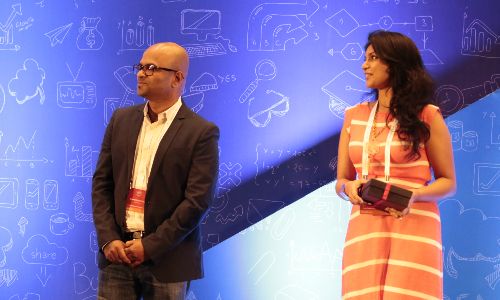 Q. What is your definition of beauty? Which is the name that comes to your mind if we say 'beautiful'?

Beauty for me is being the best version of oneself. Beauty and health are very closely connected; if you are healthy, it will reflect in your radiant skin and lustrous hair. Beauty for me also means aging gracefully. The first name that comes to mind when you say 'beautiful' is Deepika Padukone; she is simply stunning and has such beautiful, sharp features.
Q. Which blogs do you consider your competition in the beauty and skin space?

There are several other beauty blogs that I love to read but to be very honest, I wouldn't call them competitors. I am not trying to be diplomatic but truly, each blogger has a unique style of writing and their own forte – makeup for some, skin care for others – and there's space in the blogosphere for everyone.
Q. Which section/ blog post on your blog are you most proud of?

It is really difficult to choose because each post is very time intensive – taking pictures, trying out the products – all takes a lot of time and effort. I guess, the posts that I really feel most proud of are the ones I mentioned earlier on sunscreen and acids. I like writing posts that the readers would find 'informative'.
Q. How do you define an Indian woman and how have you evolved as a woman over the years?

I would compare an Indian woman to a diamond – she multi-faceted and difficult to slot, though people like to stereotype. Today's Indian woman juggles office projects, house work, and PTA meetings and will love partying the night away in an LBD as much as she loves celebrating festivals in a traditional way. I think this holds true for me as well; as I take on more roles, from being a daughter and a sister to a wife and daughter-in-law to a mother; each role has added a new facet to my personality.
Q. What do you like doing in your free time?

I barely do have any free time now. Whatever spare time I have goes to things related to the blog – replying to emails, editing pictures and writing posts. When I do actually get some free time, I like to read. That is my biggest passion, reading.
Q. Tell us about the Dollie that is not visible to your readers. The other side of Dollie, what is she like?

Thanks to social media most aspects of one's life are visible to the readers. Everything from what I am currently reading to my love for travel…it's all there on Instagram or Snapchat for people to see. Oh, but I am quite short tempered, though these days I manage to control it better. But when it does erupt, it's like a volcano…
Q. Which are blogs that inspire you? Any Indian/ international blogs you follow?

Some bloggers/vloggers I really really love are Corallista, Indian Vanity Case, Caroline Hirons, Amelia Liana, and Kaushal Beauty.
Q. How do you keep yourself updated about the latest trends in beauty and skin care?
It used to be magazines, now it's the digital versions of the beauty mags. And of course, blogs.
Q. Which are the 5 skin/hair care products that took you by surprise in 2015?

1. Vichy LiftActiv Serum 10 – infuses moisture in dehydrated skin. I didn't realize that combination/ oily skin also needed moisture and this serum did it without any greasy feel.
2. The Body Shop Drops Of Youth Bouncy Sleeping Mask – to pamper your skin while you sleep. The texture is very unique and I love it.
3. Omved Restorative Shampoo – I have tried Sulfate and paraben free shampoos before but was surprised how absolutely wonderful this made my hair look and feel. Also hubby's and kids' hair!
4. Gia Bath and Body Works Body Washes and Body Butter Creme – These blew me away. They are soooo good that everyone in my family has started using them!
5. BBlunt Liner II Professional Hair Straightener – No other hair iron straightens my hair so fast. And the design is such that the hair doesn't snag and break either.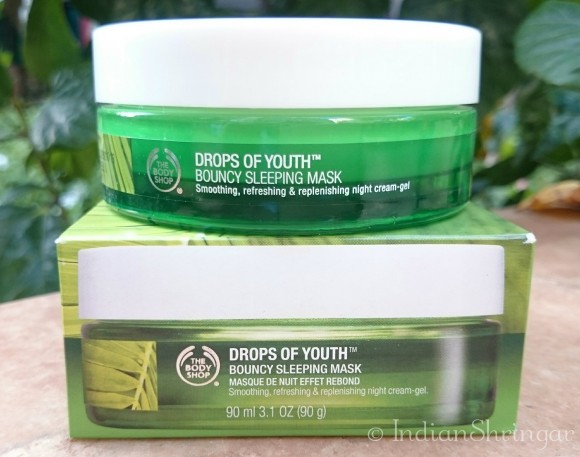 Q. The 5 makeup products of the year 2015 according to you.

1. FACES Ultime Pro Lip Crayon in the shade Peach Me – I never paid attention to this brand but I am surprised at how good these Lip crayons are. The shade Peach Me is what I have been wearing all month, not just on my lips but even on my cheeks for a natural-looking healthy, flush.
2. MAC Studio Tech Foundation – Great for the hot, humid Mumbai weather. Compact enough for travel without compromising on coverage.
3. Mirenesse Mattfinity Lip Rouge – AMAZING lip creams, great texture, lasts really long, feels super comfortable.
4. Bobbi Brown Shimmer Brick – multi-tasking product – can be used as eye shadow, highlighter and bronzer.
5. Maybelline Colossal Kajal and Colossal Kohl – long lasting, great shades and pocket friendly.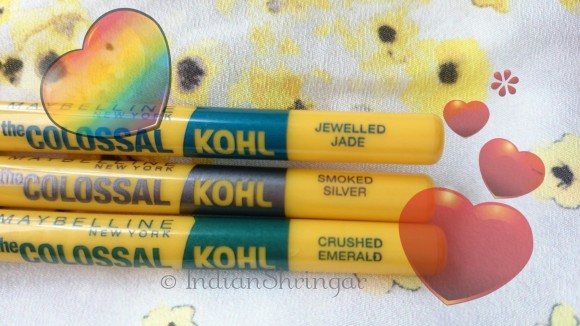 Q. What's your travel philosophy? What are the places you've been to and which ones are your favourites?

When I travel, I like to be a traveler, not a tourist who has a 'sightseeing' list. Hubby and I prefer to stroll through the streets at a leisurely pace, stop at a café when we feel like, play with the kids in the park… That is why, for our international trips, we prefer to stay in apartments rather than hotels. Checking into the apartment, going to the supermarket to get milk and fruits, having a leisurely breakfast – all adds to the charm of the holiday.
I am the CTO (Chief Travel Organiser) of the family and I decide the destination, the duration, where to stay everything. Of course, since the last few years, the holidays have all become children-centric and my sons love to travel as much as we do.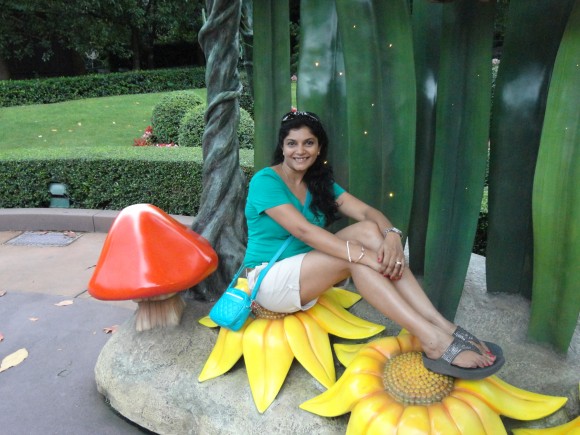 Q. Tell us a travel story that has stuck with you over the years.
Well, not really a story but an experience. During our honeymoon in Australia, we had hired a car and were driving everywhere. These were the pre-GPS and Google Maps days and while hubby drove, I was the navigator with the map book in my lap. On a Saturday night, at 1 am, while returning from the Crown Entertainment Complex, we lost our way and couldn't find our apartment. I couldn't figure out which area we were in and which page of that huge map book I had to check. Hubby just trusted his instincts and drove in what he thought was the right direction and we managed to reach the apartment. Even now, though we have Google Maps, there are times when you just need to trust your instinct.
Q. Generally we don't see books and travel posts as a part of beauty blogs. Why did you choose to extend your blog to these categories?

As mentioned earlier, they add beauty, Shringar, to my life and that's why I have included these categories in my blog.
Q. Which are your favourite books and authors? Any recommendations for BlogAdda reader?

It is always very difficult for me to choose favourite books. I love fiction – everything from espionage to mythological thrillers to chick-lit. From Enid Blyton to J.K.Rowling to Sophie Kinsella, from Ken Follett to John Grisham to Frederick Forsyth to Tom Clancy, from Ashok Banker to Anuja Chauhan to Chitra Banerjee Divakaruni, my list of favourite authors is long. Each has their own unique style of writing and their niche that I enjoy. And I am absolutely OBSESSED with the Mahabharata and love to read all the different retellings of this epic – especially ones that try to remove the 'magical and Godly' elements and tell it like a story of normal people.
Q. How important is social media for you and your blog? How do you promote your blog?

While I was on Facebook before I started blogging, I got onto all the other social media (Twitter, Facebook page, Instagram, Snapchat) only for the sake of my blog because social media is very, very important. In fact, so important and powerful is social media now that even brands want to associate with "Instagrammers" – who don't have blogs but who apparently have a massive following on Instagram. Each post that I publish on the blog is promoted on all my social media.
Q. Tell us something about your family. Do they follow your blog and give feedback? Do your kids know that mommy is blogging when she is on the computer?

I live in a joint family and it was a bit difficult to explain to my in-laws what exactly a blog is and what exactly I do when I'm on the computer or even on the phone. My cousins and sisters-in-laws and nieces do follow my blog and ask me for tips and recommendations as do my friends. Even some of the moms of my sons' friends follow my blog.
My kids also know that I am a blogger and elder son is quite interested in knowing how I edit pictures etc. The whole family was so happy and proud when I won the WIN15 award!
Q. What are the skin care tips that you swear by?

Cleansing is the most important skin care tip. There are days when I am super tired and don't feel like cleansing and that's when Micellar Water and makeup remover wipes come in handy. Also, it is very important to drink enough water and eat healthy. But the most important thing is to understand your skin. It is unique – what works for one person might not work for you.
Q. According to you, which are the blogging mistakes that beauty bloggers, or any bloggers should avoid?

Blogging for the sake of blogging or for the sake of freebies/event invites is perhaps the biggest mistake someone could make. When you're passionate about something, it will show in your work and when you aren't, that will show too.
Q. Do you think too many brand associations dilute the brand of a beauty blogger?

Not necessarily. It depends on how impartial the blogger is when writing about the brand/product.
Q. What's next for your blog? Also where do you see yourself in the next 5 years?

Several readers have been asking me to start a Youtube channel and that is something I have been considering. However, I am very tech challenged and want to learn a bit of the technical stuff before I start it.
Also, I am the person who takes each day as it comes. Nobody knows what's going to happen tomorrow so 5 years is a long time away. I just hope to keep enjoying, keep learning and keep improving on this blogging journey.
Q. Any message to aspiring bloggers to make it big in the world of blogging?

I am still a learner myself. All I would say is, get into blogging if you're truly interested in it; not just for the perceived 'perks'.
Quick questions
1. Top 5 beauty must haves – Cleanser, moisturizers, sunscreen, eye pencil, lipstick (that can double up as a blush)
2. Dollie doesn't leave the house without – Putting on fragrance. And of course, my phone and wallet.
3. Top 3 destinations on your wish list – New Zealand, Greece, South America
4. My idea of a beautiful day is -Any day when I am on a holiday.
5. One era that you would like to live in except this one – I'd love to live during the time of the Mahabharata; would love to know what actually had happened, would want to meet the characters without the biases that history has taught us and would love to know the beauty secrets of those gorgeous queens.
So this was BlogAdda's last interview of 2015, and that's what we call finishing the year with a bang! What are your thoughts on the interview? Tell us in the comments section below!