Woop de doop! Another year is over and even though we're still reeling from the speed at which 2015 whizzed past us, we're trying to focus on the good here – A new year with new possibilities, resolutions and hopes. We can't wait to see what 2016 has in store for us, but before that, we have the Best Blog Posts of 2015 – Tangy Tuesday Edition. These blog posts have been picked for a reason, which you'll see below. We hope you enjoy these blog posts as much as we did, and if you want to be featured in Tangy Tuesday Picks, please submit your blog posts here. Have a Happy New Year!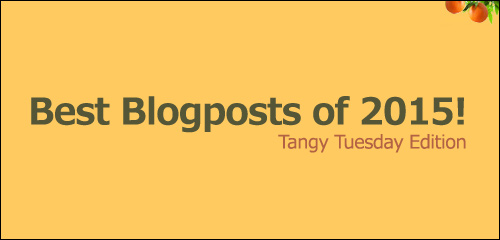 Who: Hemani Jain
Tangy: 'The grass is greener on the other side' might be an old saying, but it has stood the test of time, all thanks to our tendency to think everyone else has an easier life than us. We're all given our lot, and the choice is ours – if we want to be happy or grumble all the way. We chose this blog post because the lesson it gives is eternal. Many people in the world are happy with a lot less than you have, so a little gratitude will help in bringing that much needed sunshine in a bleak world.
---
Who: Antarik Anwesan
Tangy: Ewww! Who wants to start the new year with a morbid thought? The point of this selection is not to make you think about death. The point is to give you a wake up call and get you to fulfill your destiny and be a better person. We put away the good things in life because we think we're going to live forever, so this blog post is the perfect antidote to that. Think about this blog post while making your new year resolutions, and see just how your life changes for the better when you experience every moment fully.
---
Who: Kalyan Verma
Tangy: There are very few moments in life that take our breath away. These moments turn into memories that last a lifetime, and make us grateful that we're able to experience magnificent, something bigger than us. Interestingly, most such moments happen when you're traveling. Kalyan wrote about his once in a lifetime experience and we can't get over the photos and blog post. Hopefully this will inspire you to take such journeys and create such memories too!
---
Who: Nihar Pradhan
Tangy: Who are we? Bloggers! What do we do? We blog! We believe bloggers have a different way of looking at things. We as bloggers go through normal life thinking about how best to chronicle it, and the most unexpected things can inspire us to tap away at our keyboards and sit back with satisfaction when our blog post turns the way we want it to be. We don't know if blogging makes you a better/perfect person, but it definitely makes you a unique person.
---
Who: Debolina Coomar
Tangy: Anyone familiar with wedding vows knows that they end with 'Till Death Do Us Apart'. They do sound lovely, but we beg to differ. True love transcends the bonds of life and death too, as told to us by epic love stories. This New Year, we want you to read this blog post, which though a fictional one, tells you the immense power that love holds. We're sure this blog post will make you go up to your loved one and tell them how much they mean to you.
---
Who: Manas Mukul
Tangy: Most single youngsters dread attending family functions for one reason and one reason only – elder relatives coming up to them and asking them 'When are you getting married'? This question is mostly accompanied by unflattering remarks about growing age/ not finding anyone/ dying a lonely death after a deprived life. We're exaggerating, but the on-ground situation is quite similar. This chuckle worthy blog post is a must read for everyone; for singles to draw strength from the fact that they're not alone, and for blissfully married people to know when to stop pestering the happily single ones.
---
Who: Dhara Shah
Tangy: Teenage is a time of a lot of new discoveries, growing into adulthood and becoming the person that you will most likely be for the rest of your life. It is also a confusing time as teenagers have to deal with peer pressure, conflicting feelings about the opposite sex and their own place in the world. This time can be trying for girls, who come with their own set of problems. A teenage girl needs all the unconditional love and support they can get, and this letter of assurance is as close as it gets.
---
Who: Nizam Md S
Tangy: Education is the foundation of progress for any country. If our ministers followed this simple logic, the literacy rates in India wouldn't have been so abysmal nearly 7 decades after Independence. The best way to fight ignorance is with hard facts and numbers, so read this blog post to know what's being done for the state of education in India and how far we need to go till it is enough.
---
Who: Yamini and Yatharth
What: "Why is paper money one of the biggest scams in the history of mankind?"
Tangy: Our ancestors survived on the barter system, which made way for the paper currency that we're all currently running after. Can you imagine though, that pieces of paper you (and we too) spend your whole life accumulating, is nothing but a concept? Well it's true, as money only has as much value as we assign to it. We don't mean for you to panic and hyperventilate, but some more knowledge about the thing that makes the world go round never hurt anyone.
---
Who: Sid Balachandran
What: "The Refugees"
Tangy: The Syrian crisis has gotten so big that most of us fail to fathom the gravity of the situation. The world has started looking at the refugee situation in statistics, forgetting that every number represents a person, a story, filled with loss, terror, hope and survival. This fictional post is an attempt to humanize these statistics, and take some time out of our celebrations and send help and prayers to the Syrian refugees.
---
Who: Siddhartha Joshi
Tangy: Every new beginning should be accompanied by something sweet, right? Forget the cakes and pastries, and dive into this story of Pootharekulu. Read a blog post about this painstakingly made sweet and realize the rich traditions of India. What better way to start the new year?
---
Who: Rutavi Mehta
Tangy: Are you done planning all your trips of 2016? Make some space in your travel schedule because we have a handy guide to the National Parks of India. Our country is blessed with amazing diversity in flora and fauna, and you'll find a national park to suit your preference no matter what it is. You can feast your eyes on wildlife, live in a resort in the middle of the forest, and who knows, maybe even spot tigers, lions, rhinos and other glorious creatures. Get inspired with this post and don't forget to send us pictures when you visit these national parks!
Did you like our pick of the 'Best Blog Posts of 2015- Tangy Tuesday Edition'? Let us know in the comments section below!
---
Have you checked out 'Conversations' where you can Connect, Learn & Share. Do check it out and participate. You can now tip your blog posts for Tangy Tuesday and Spicy Saturday Picks right from our homepage. Click on the tabs and submit your posts.You can also tip us on Twitter @blogadda or using our contact form. If selected, you'll be credited for it and the readers will get a chance to read something worthy.