If there's one bug that we don't mind contracting, it's the travel bug. No wait, we don't even mind being a victim of the shutterbug. Are you one of the people who have fallen prey to the charms of photography and travel? Then we have the perfect opportunity for you!
LG NEXUS 5X presents the #ChampInCity activity in association with BlogAdda. Register for this awesome activity and get the opportunity of a lifetime! LG NEXUS 5X is giving you the chance to explore your city like never before, and win prizes like never before!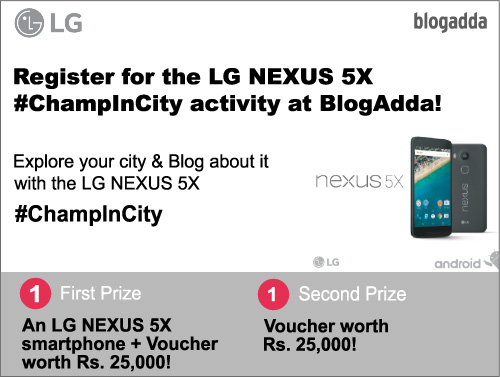 Are you hooked? No? Here's what will happen if you DON'T register for the #ChampInCity activity:
You won't get a chance to have an Exclusive hands on experience with the new and ultimate LG NEXUS 5X.
You won't be able to go out and explore your city, and show us the best parts of it, through the lens of the LG NEXUS 5X.
You won't get a chance to have your photos and video featured on a special page for all to see.
You will miss out on a chance to win the First Prize of an LG NEXUS 5X and a voucher worth Rs. 25,000. Yes you read that right.
You will also not be in the running to win a voucher worth Rs. 25,000 as the Second Prize.
We at BlogAdda don't want you to be bereft of such an amazing opportunity, so do register at the earliest to be a part of the #ChampInCity activity! And you know the best part? You don't need to be a travel or photography blogger to register for this activity. All we need is a passion for photography and discovering and documenting new places and experiences.
So go ahead and click on the button below to register. If you're shortlisted, we'll get back to you soon!
Click To Register!
The deadline for registrations is midnight October 20th, 2015, so hurry up!