'Tis the season to be merry! It is also the season where you are showered, not with gifts but with listicles and videos of 2015 Rewind. What was in and what was out in 2015, the biggest scandals, controversies, achievements and tragedies of the year that we're saying goodbye to, all this information packed neatly into consumable chunks.
2015 was quite an eventful year for India and the world, but we can Google 'Biggest events of 2015′ and find out what caught the imagination of the world. As we get ready to welcome 2016, we at BlogAdda are more interested in knowing how your 2015 was, and what are you looking forward to in the year 2016, and to that end, we present the #TalesOf2015 activity.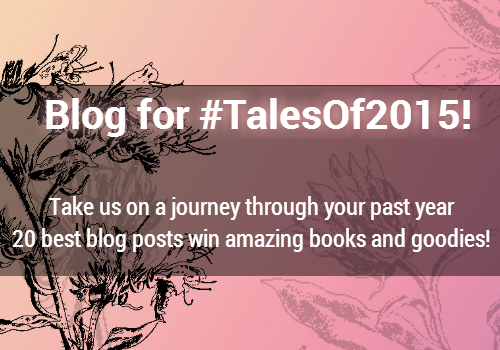 Blog for BlogAdda's #TalesOf2015 activity till midnight of 10th January 2016. Tell us what you learnt, experienced and left behind in 2015. And also talk about what are the useful things that you will carry with you in 2016. It could be a piece of advice, a wish, a life skill, an insightful experience or just some dreams. Write something that will make people look forward to the next year.
We enter every new year with hopes, aspiration, a little trepidation, resolutions (and maybe a killer hangover). Write a blog post that will make this transition exciting and smooth for other bloggers.
We want you to share how you are preparing yourselves to welcome the coming year 2016. Share your resolutions with us so other people may get inspired. Let us know the special little things that you are looking forward to, to make 2016 better than 2015.
Prizes:
The top 20 blog posts will win books and goodies from BlogAdda!
Click on the button below to submit your entry.
Mandates for this activity:
The word limit for this activity is a minimum of 400 words.
Please include the line, "I'm sharing my #TalesOf2015 with BlogAdda."
Only blog posts submitted through this form will be considered valid.
The last date for submission of this blog post is midnight, 10th January, 2016.
One blogger can write a maximum of 2 blog posts for this activity.
So hark back to the olden days of January 2015, and tell us about the ways in which your life changed in this year and how you plan to dive into 2016. We're all ears!