INK Talks – Naam hi kaafi hai. After 5 super successful editions, all eyes were on the 6th edition and the stories of inspiration and achievement that would unfold. And Day 1 of INK 2015 dazzled all with a lovely confluence of talks on topics ranging from science, personal victories, medical advances, the cosmos, film-making, the arts and much more!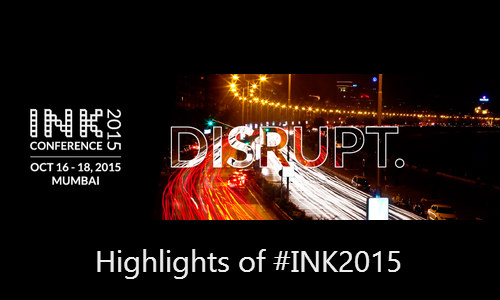 The day started on a beautiful musical note with Gingger Shankar, the only woman in the world to play a double violin, who mesmerized the attendees with her notes. After the introduction by Lakshmi Pratury, the session started with Anuradha Acharya of MapmyGenome, who talked about a future where genomes would be the dominant identifying factor for people, and how genomes could help personalize medical treatments, vastly improving the quality of life for coming generations. What's more, in between talking about the Genome Glass (like Google Glass) and designer babies, she also presented a poem on genomes!
The next session by Anand Varma was filled with pictures of creepy crawlies and bugs, but instead of being disgusted, the audience was fascinated! He talked of his interest in parasites in the animal kingdom, and explained the mind boggling (literally!) phenomenon of mind controlling parasites who influence the behaviour of the hosts to suit themselves. Imagine if all of us had that power! Part of the fascination for his session was caused because he actually played a dubstep video which showed his process of photographing the critters and their parasites. Who would've thought!
Next up was a huge dose of inspiration from Jack Hidary and innovator Alexandru Ionut Budisteanu. Jack spoke of moonshots – seemingly over ambitious plans and how they are the key to improving our quality of life as a civilization rather than incremental improvements. Alexandru was the fastest of the lot as he rattled off his story of being raised in Hackerville and building the Vision Bot that would help innovators turn their prototypes into products.
Stuart Candy gave the attendees a glimpse into the 'futures', yes, in the plural as he talked about his work as a futurist. Don't worry, it's not rocket science, which he proved when he showed a card game about predicting the future!
Just as the first session started with a performance, it ended with a scintillating Kuchipudi performance too! The beautiful dancer in full female Kuchipudi finery enthralled the audience, and also made them gasp when it was revealed that she was in fact, a male dancer named Haleem Khan! Haleem told his life story, and ended the session with another mesmerizing performance!
The second session saw Manvendra Singh Shekhawat's first talk, which conveyed his love for the Thar Desert and the people who love the land and live off it. The sheer numbers that he has achieved are mind boggling! He took the help of locals to build a lake which now collects and stored 12 million litres of water. Not just that, he also spearheaded a mission where 1,50,000 square feet of ramparts were cleaned in 25 days!
Next came a discussion with Mohandas Pai about the condition of education in the country, and stressed on the need for giving freedom to universities to help them flourish and do the best for students.
Most of us drink coffee, and some of us can't reach a human state, let alone a productive state, without a dose of coffee. But coffee isn't just one of the most widely consumed drinks in the world, it also plays a huge role in causing harm to the environment. Arshiya Bose talked about how her goal to have most of the coffee grown in India to be conservation friendly and not affect the tree cover in the area.
Naved Shaikh lightened up the proceedings considerably when he started his rap in Hindi, yes, HINDI! This performer with a unique style of singing also cracked up the audience when he told his story about how hip hop and rap saved him from becoming an 'anti-social element' and also gave advice to youngsters, all in rap style!
There was another huge shot of inspiration in the final session, with Nina Tandon of EpiBone talking about how stem cells could be used to grow body parts and how patients could go from just a collection of organs to self healing bodies. Harsh Mariwala of Marico told the amazing story of Parachute, Kaya Skin Clinic and all his other brands, giving hope for the small entrepreneur. He left everyone with learnings of how to sustain success, not being afraid of failure and the power of right governance.
The next session by Arunabh Kumar of TVF was the perfect mix of humour and food for thought as he spoke of his ambition to create a world class show in India, and succeeding to do that with his show TVF Pitchers. His motto of 'Lights, Camera, Experiment' and his explanation about how the youth of India is perceived by the content creators was met with a lot of appreciation.
The next sessions took everyone on a journey to the skies as Priyamvada Natarajan talked about the leaps that astrophysics has taken. She explained how our information about the Universe is rapidly changing, and how we are significant even if we're on a small planet in one of the millions of solar systems in the Universe. Before her, M.R. Rangaswami spoke about how the Indian diaspora had powerful potential in the USA, which could be harnessed to bring about some real change in the country.
Balan Ayyar and Ganesh Natarajan both spoke about tackling problems, but in a different way. While Balan Ayyar talked about problems exposing who we really are, Ganesh talked about how the digital world can be used to create communities and aid economic growth.
After an energetic dance along with Tina Sharma and an insightful talk about the company Grey Orange, INK2015 moved to a talk by Richa Singh about mental illnesses and removing the stigma associated with them through her initiative Your D.O.S.T., showing the audience that there is a huge need for help and counsellors for youngsters suffering from depression.
Dr. Balamurali Krishna Ambati, who became the youngest doctor in the world at age 17, talked about his experience and the need for eye donation in India. He stressed that blindness was curable and that there are many people living lives in the dark just because enough people did not donate eyes.
Art and design curator Pavitra Mohan spoke about how curating art from South Asia helped her combat bipolar disorder, giving new hope for people with mental illnesses.
The film-making crew was out in full force with Kiran Rao, Ayushmann Khurrana, Irrfan Khan, Anand Gandhi and Shamim Sharif all focusing on the different aspects of the creative calling. Ayushmann Khurrana won over the attendees when he said that facing a lot of failures made you fearless, and spoke about how a rooted background helped him succeed in the ruthless industry. Kiran Rao and Anand Gandhi hoped that film-making would be seen as an art in the future and not just a money spinning device, and touched upon the immense power of change that movies had.
Shamim Sharif talked about how her life experiences helped her become a truly fearless film-maker, and how her conviction to live life her own way was the deciding factor of her life.
As they say, save the best for last. Internationally acclaimed actor Irrfan Khan brought the house down with his witty repartee, and had the audience eating out of his hands. He talked about everything from finally finding fulfilment as an actor to how the Indian public was very happy to see him on the world stage, but he still didn't get appreciation from the film industry, and from his goofy side to the time when he faced a tiger in the wild! Talk about a roller coaster ride!
Day 1 at INK 2015 ended with an amazing performance by Madboy/Mink aka Imaad Shah and Saba Azad, who punk'd up INK in their own style! Can't wait for more such amazing sessions at INK 2015! Watch this space for more 🙂
Here are some amazing tweets.
And I also met @TheQtiyapaGuy! Heard his session was a hit just like his web series'. #INK2015 pic.twitter.com/2IsO1fh088

— Ayushmann Khurrana (@ayushmannk) October 17, 2015
Two "DISRUPTIVE" artists @ayushmannk and @JoshRadnor for #INK2015 pic.twitter.com/aak5Ac2oiv — YRF Talent (@yrftalent) October 16, 2015
"The only fiction content the Indian youth watch for entertainment is the news" @TheQtiyapaGuy #INK2015 @inktalks

— Verve Magazine (@vervemagazine) October 16, 2015
Two things different about this performance. This dance was performed by a man and his name is Haleem Khan #INK2015 pic.twitter.com/Jq0P3UIKHZ — BlogAdda (@blogadda) October 16, 2015
Get off your seats and rock #INKsters! @MadboyMink is at #INK2015 #Disrupt pic.twitter.com/4MijHDsGl9

— INKtalks (@inktalks) October 16, 2015
Precious pic down memory lane @irrfan_k #INK2015 @lakshmipratury Salaam Bombay #nostalgia pic.twitter.com/8zkrDhOtwd — Sanjay Nath (@sanjaynath) October 16, 2015
Facing tiger about 10m away, a chat with elephant & starting a lagori league, that is @irrfan_k for you. Great talk @inktalks #INK2015

— Nirav Sanghavi (@nirav) October 16, 2015
"#Bollywood awards should focus on recognising excellence rather than celebrityhood," Kiran Rao @inktalks #INK2015 pic.twitter.com/xckGhJSjK3 — Subhamoy Das (@subhamoy_das) October 16, 2015
At #INK2015@ayushmannk has the audience lost in music with a spectacular performance of his song 'Paani da' pic.twitter.com/B5mqGpMY9n

— INKtalks (@inktalks) October 16, 2015