As much as we hate clichés, sometimes there is no option but to resort to them. So we'll use one and say that blogging is one of the best forms of self-expression. That makes bloggers great at expressing themselves, right? So we thought, when we are sitting on such a goldmine of new ideas, thoughts and questions, why not dazzle the world with it? And we have just the way to do it – The #WIN15 Unconference.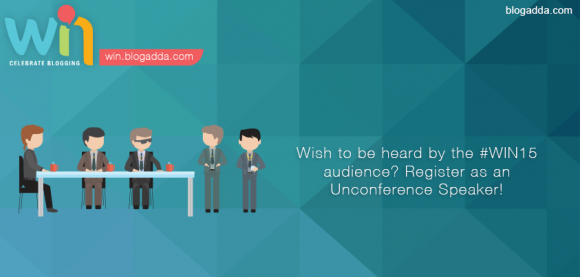 Presenting the #WIN15 Unconference. A dream within a dream. A space reserved for you at #WIN15. #WIN15 will be a daylong celebration of blogging with amazing sessions, discussions and workshops with behemoths of the blogging world. Listening to them and interacting with them will no doubt be a great learning experience for all attendees, but the thoughts of bloggers are just as precious to us. So we're giving you a chance to hold court at #WIN15 in the Unconference Zone. This is how the Unconference will work:
1. Choose an interesting topic and register for the Unconference here. You will have to be a registered attendee of #WIN15 to be eligible for the Unconference. Get your ticket here.
2. We'll shortlist the bloggers with the best topics and invite them to speak at the Unconference.
3. We'll announce the shortlisted Unconference speakers. Selected speakers promote their participation in the Unconference. The final list of Unconference speakers will be decided on the day of #WIN15.
4. Each blogger gets 17 minutes to speak to his/her audience in a dedicated space. Attendees can walk into any Unconference talk that captures their attention.
5. After the talk, you can take questions and talk to your audience one on one.
The format of the Unconference is casual, laid back and flexible, which will serve as the ideal situation for the best exchange of ideas and thoughts. We know that you have loads of thoughts to share with the world. Of course you can do that through your blog, but wouldn't it be great to talk to people and get their response in real time? And just imagine the networking opportunities that it offers! So make the best use of this platform that #WIN15 gives you, and be an Unconference speaker.
Remember, the deadline to register for the Unconference is 13th September, 2015! Also, if there is a blogger you admire and would like to listen to in the Unconference, share this with them and unleash them on the blogging world. See you at the Unconference!
P.S. – We have an awesome referral system which allows you to get great discounts on #WIN15 tickets for yourself and your friends! Click here to know more.