Sometimes the writing leads to the revelations, not the other way around. – Julia Glass
Don't you agree? This week's WOW prompt will surely give rise to ideas and make you write a wonderful blog post. Our creative writing prompts are designed to inspire original posts from our innovative bloggers! So start writing and make this weekend more colourful with inventive words on your post! Book your tickets for #WIN15 on September 20, 2015. Do it before the early bird discount flies away! Trust us, it will be a day you won't forget!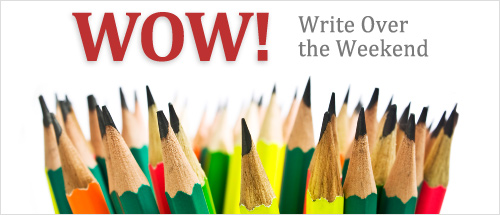 This week's WOW prompt is to include these words in your blog post – 'Writer, Coffee Shop, and a Broken Pencil'.
You have to include these words in your blog post. There's just too much that could be written and the possibilities are endless. Use all your imagination powers and creative formulas with this prompt, grab a coffee and write! There are no rules, this initiative is all about your love for writing! The prize will be the end result itself as you will have a story to cherish on your blog and of course, the prestigious WOW badge!
Remember, you have time only till Sunday midnight to submit your blog posts and have a chance to get the WOW badge!
Include this code:
This post is a part of Write Over the Weekend, an initiative for Indian Bloggers by BlogAdda.
Once you are done with your post click on the submission link below for your WOW entry to be considered valid.

Every weekend, we give creative writing prompts for you to write blog posts on! Hope you enjoy our creative writing inspiration for this week. 🙂
All those who are featured in WOW can now flaunt the WOW badge on your blog. Download your badge now!