There is one question that perennially rings in our head, irrespective of where we are and what we've achieved, which is 'What is Life?' We consistently ponder on this question and then we simply find distractions that take our minds off this unnerving question hanging over our heads.
Because the quest to find answers about life is not a well-paved path laid out in front of us. We don't know where to start from, but that does not keep us from wondering about the secrets of life. And if you're someone who does think often on life and its mysteries, this contest is just for you!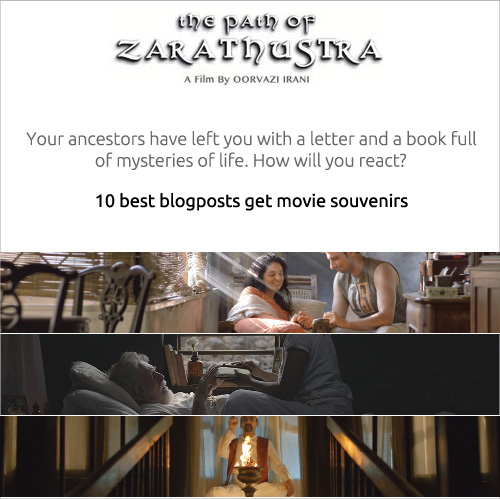 Yes, it is about the upcoming movie, 'The Path of Zarathustra'. Take a look at its trailer here.

Amaze us with your creativity by writing a blog post on the theme given below:
"Your ancestors have left you with a letter and a book full of mysteries of life. How will you react?"
Imagine getting an old, heavy book and a letter which reveals all the secrets of life. Will you read it from end to end in one sitting or spread this information to all who care to listen? You definitely won't doubt its credibility because of the source it has come from, or will you? Are you awed or are you shocked? Too many questions and the answers will come from your blog post!

Prize
Top 10 blog posts will receive 'The Path of Zarathustra' movie souvenirs.
This is a contest that is perfect for those who love creative writing. We're waiting to hear from you! The thought of writing on life itself sends a chill down our spine, as this question has never had the right answer till now. So most of us have reconciled ourselves to satiate our materialistic desires and turn a blind eye towards a higher calling. It's time to pick up this question again, dust it a little and write a blog post about it!
Instructions to follow:
The word limit for each blog post is a minimum of 400 words.

Bloggers must include the line, "

I am participating in this creative activity organised by makers of

The Path of Zarathustra

in association with

BlogAdda

."

in their blog post.

Only blog posts submitted through 

this form

will be considered valid.

The last date of submission for this activity is August 30, 2015.

Every participant can submit a maximum of 2 entries.
Start writing and submit your posts to us! We can't wait to unveil the mysteries of life!