Logic says that we should do or believe something only if it appeals to reason. Is this always possible when it comes to people close to us?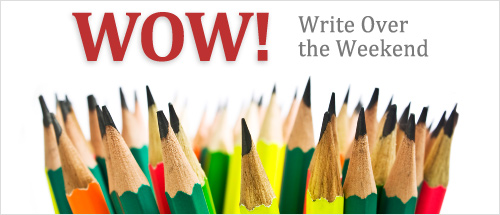 This week's WOW prompt is 'Because I Said So'.
Have you faced a situation when you didn't want to agree with something or do something but did it just because your parents, spouse, siblings, teachers, boss or the society asked you to do so? Do such situations turn out for the better or worse? Write a blog post about this blog writing prompt and tell us what you make of these words.
This weekend, make sure you keep some time aside for creative blog writing for WOW, because we said so!  🙂
Remember, you have time only till Sunday midnight to submit your blog posts and have a chance to get the WOW badge!
Include this code:
This post is a part of Write Over the Weekend, an initiative for Indian Bloggers by BlogAdda.
Good news! There is now an easier way to submit your WOW entries, so just click on the submission link below for your WOW entry to be considered valid.

Every weekend, we give creative writing prompts for you to write blog posts on! Hope you enjoy our creative writing inspiration for this week. 🙂
All those who are featured in WOW can now flaunt the WOW badge on your blog. Download your badge now!
Wish to review the epic Ramayana – The Game of Life: Shattered Dreams by Shubha Vilas? Click here to get your hands on the book!
The #UseYourAnd activity is ending on the 1st of February so make sure you submit your stories of triumph before that!
Why wait for a #SecondChance to do what your heart desires? This weekend, blog about the things that you have been putting off till now and win vouchers worth Rs. 1000!