Every time we feel like taking a break, we check the calendar longingly for the next long weekend. Some of us wish to take our parents on a foreign trip, but put it off because 'my expenses are getting out of hand at the moment'. Even something simple like spending time with kids is deferred to the next weekend because you're too tired after a hectic week at work.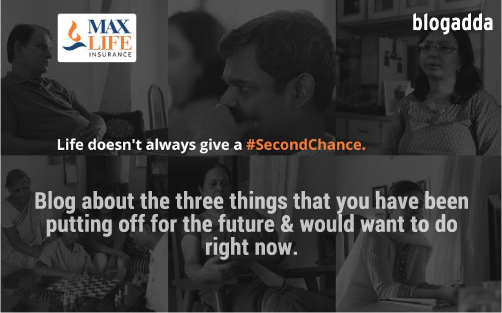 What are you waiting for? What is the guarantee that the future will give you a chance to do all the things that you have been putting off till now? All of us have a bucket list of things to do when we have more time, more money, less responsibilities, but the stark truth is that many of us, too many of us don't strike off most of the things in this list. Because there is no #SecondChance.
BlogAdda in association with MaxLife Insurance presents the #SecondChance activity, where you have to blog about the three things that you have been putting off for the future and would do right now if given a chance.
Think about all the things on your wishlist that you have postponed and blog about them now, because the 20 best blog posts will win vouchers worth Rs. 1000!
Instructions to follow:
1. The minimum word limit for each blog post is 300 words.
2. Each blogger can submit two entries for this activity.
3. The deadline for this activity is midnight of 1st February, 2015
4. Please include the line "This post is a part of the #SecondChance activity at BlogAdda in association with MaxLife Insurance".
To submit your blog post, click on the button below.
Submit Now!
Make sure you submit your entry as soon as you can, because life doesn't give you a #SecondChance!