Most people turn to blogging because of the freedom that it offers them. Freedom of expression, freedom of when and what to post and even what the blog should look like. A few bloggers take this privilege too lightly and end up making mistakes that have an adverse effect on their blog. Here are some of the blogging mistakes that you should avoid, if you want your blog to prosper.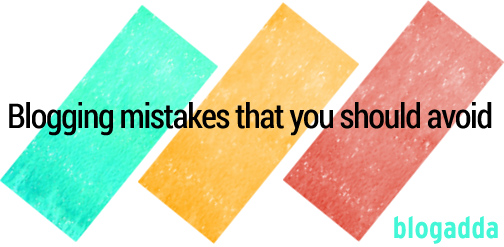 1. Wrong grammar and syntax

One mistake that bloggers make is not proof reading their posts before hitting publish. You might have written the best article in terms of content but grammatical errors, bad sentence formation, IM language and writing lyK diS will bring down the quality of your blog in a jiffy. Take a look at the grammatical errors commonly made so you know which pitfalls to avoid.
2. A bad design sabotages your content

Agreed that all of us have different style sensibilities and we want our blog to be a reflection of who we are, but there are some design basics that you should follow. How many of you have closed a blog post window because the text was unreadable, too many colours gave you a headache or a part of the page didn't stop flashing? Think about your users before settling on a design – it will be your first impression. Here are some of the designs you should steer clear of.
3. The trust factor

Your relationship with your readers is majorly based on the trust that they have on you. Do your research and make your blog as error free as possible. If you base your blog post on hearsay, it is likely that someone will spot the mistake, sending your credibility for a toss. Write about a topic only when you are well equipped with information, regardless of whether you are a tech, auto or a makeup blogger.
4. Make your pictures say the right words

Images and GIFs make your blog more engaging for sure, but there is a lot that can go wrong with pictures. Low resolution pictures, stretched images, photos irrelevant to the blog post, not giving credit for 'borrowed' images or crowding your blog post with too much pictorial content – all these are traps easy to fall into. Avoid these at all costs – use good quality original photos whenever possible.
5. Lone Wolf Blogger

Yes, you write very well and yes, people should read your blog which you are very proud of. But how will your readers know that you have entered the blogging world if you don't let them know? Network with other bloggers, read and comment on their blog and invite them to read your blog. You will get to learn a lot and also get new readers in the bargain. Don't be a lone wolf, blogging is as much about networking as it is about writing.
6. The Flip Side to networking

There is another side to the 'promote your blog' coin, and it is called 'overdoing it'. In this world of promotional blitzkrieg, it is natural to want to shout from the rooftops about your good work for fear of getting lost in the crowd. But too much promotion on social media and blogging comments translates to less value and more spam for your readers. Find that golden middle path.
7. Originality is King

Most new bloggers follow some established bloggers and would like to emulate them. Be careful that emulation doesn't slide into copying, and you look like a watered down copy of a popular blogger. Keep your content, design and style original – there is space for everyone in the Blogosphere.
8. Keep it Short and Simple

So a blogger has done his or her research, selected the best pictures and has a lot to say in their blog. Even for a well researched post, it is advisable not to write a long blog post that makes it look more like a project or dissertation rather than a blog post. People tend to lose focus after the first few hundred words, so try to condense your blog post to an acceptable word limit. If you have loads to say, you can always do a follow up post!
9. Ad'ding to the Clutter

Making your blog a profitable venture is a prospect many bloggers find alluring, and placing ads on your page is one of the easiest ways to do it. It would be wise to remember that your blog is for readers, and not just advertisers. Too many ads will make visiting your blog an unpleasant experience and drive the audience away, and the ads will follow the traffic on the way out. Maintain a balance of ads and content on your page.
10. Impressive but irregular

You've managed to impress your readers with a well written post. But if you make them wait too long for another post, chances are you will fade away from their memory. Bloggers who write a spate of posts over a month and then disappear for 3 months steadily lose readers who are looking for consistency. Don't compromise on quality, and don't be irregular either.
Did you find this article useful? Have you come across these mistakes or any other ones? Tell us in the comments section below!