In our quest for better health, we are constantly on the lookout for healthier substitutes for our food choices. And people of Delhi, we have something for you to help you along in this quest.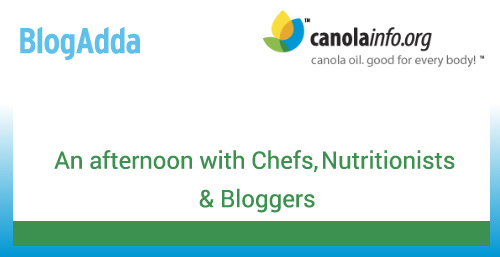 We have an interesting event for all the Food, Lifestyle, Health & Fitness and Mommy bloggers in Delhi.  Selected bloggers from Delhi will get a chance to attend an event by Canola Council of Canada, where they will get to know more about Canola Oil, the better alternative to traditional oils that dominate our kitchen. And this will be done by the special guests for the event, who are some of the best in the business.
First up is Chef Surjan Singh (aka Chef Jolly) of Junior MasterChef, who will demonstrate the preparation of a variety of dishes prepared in the multifaceted Canola Oil, showing how Canola Oil adapts well to all cuisines.
Next up is Ritika Samaddar, Registered Dietician and Nutritionist, and she will shed light on the various health and nutritional benefits of canola oil and how it helps you get fitter.
Finally, there will be Mr. Bruce Jowett, Vice President of Market Development, Canola Council of Canada, who will share interesting insights on the latest consumer research on edible oil consumption patterns. And the event will be rounded off with high tea.
Sounds interesting? Here are the details for the event:
Date: Thursday, 4th December, 2014
Time: 2:30 pm
Location: New Delhi
Bloggers who are interested in attending this event, kindly click on the button below to register yourself! There are only limited seats for the event, so hurry!