2014 is coming to an end and the last of the year's festive and wedding season is truly upon us. There will be parties and functions galore, and we're sure you want to take them to the next level. So we have some easy DIY projects for you, to spruce up your home, spice up weddings, and of course, pamper yourself at the end of it all.
 1. DIY Bulb Plant Holders
With the increased use of CFL bulbs, traditional bulbs have been rendered useless. Thinking about what to do with your old bulbs apart from discarding them? Archana finds that Meena Sriram has thought up a great way to reinvent these old bulbs and with some effort, you can easily make over any corner of your house with these!
2. Wheel of Fortune? Nah, it's a Wheel of Cuteness!
We usually think that a wheel without the bicycle is useless. But Two Material Girls came across a wheel and saw a possibility to add that extra zing to their room! One of the easiest DIY projects we have come across, with minimal effort you can personalize your room no end!
3. Feathery twist to your look
With so many parties and pre-wedding functions to attend, wearing a dazzling outfit and complementing it with the perfect accessories is a headache that has kept many a fashionista awake at nights. The Me Fashion blog shows you how to make a feathery earring with very few materials, which can lift up even a simple outfit. Try it!
4. What a Grate idea!
Let's go back to the kitchen for a while. See the grater in your drawer? Yes of course, you use it whenever you need to grate vegetables for a quick stir fried dish, or to make yummy gajar halwa. But what if we told you that the humble grater can make your house look great? Kiran has not one, not two, but 16 ways to use the grater outside the kitchen
5. Decorative Mason Jars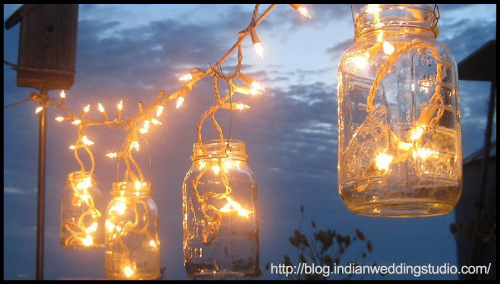 Remember the glass jars that grandmothers used to store a year's worth of pickles? These jars, called mason jars are making a huge comeback and are being used in the modern kitchen to store things and also as serving utensils! Indian Wedding Studio goes a step further and uses these simple jars to add a homely, yet beautiful touch to your home.
6.Personalize your wedding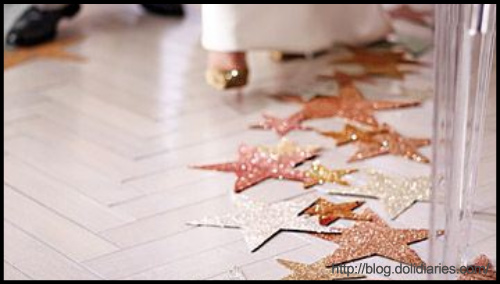 Everyone wants their wedding to be unique and memorable for the bride and groom as well as for the guests. One way of doing it is to surrender to wedding planners, but for the majority that cannot or do not want wedding planners, here are some tips from Doli Diaries to make your wedding stand out among the other cookie cutter weddings.
7.Photobooth backdrop? No problem!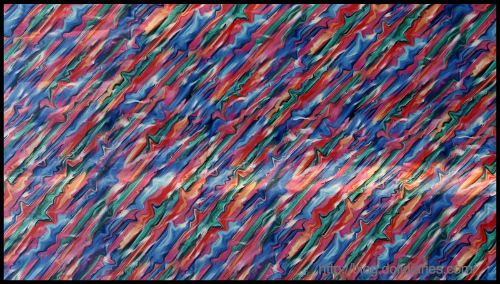 Photo booths are hugely popular and have become a staple in parties and pre-wedding functions. After all, why have boring posed photographs when you can have candid and wacky photos in a photo booth? For those who can't afford an actual photo booth with its army of attendants, here is a simple way to transform any plain wall into a photobooth with a DIY backdrop, courtesy of Smrithi.
8.Clutch your hearts!
Bored of the same clutch that is oh-so-last-season, but can't chuck it because of the amount you fished out for it? We have a simple solution- give it a new lease of life by refashioning it with some old clothes! Interested? Check out Geri's easy way DIY to renew your clutch without spending a bomb!
9.Make your collar cooler!

Have a collared shirt that has lost its sheen? Fret not! You can jazz it up with a DIY collar that is all the rage right now. A pair of tweezers and some simple materials is all you need, and voila, your simple shirt is party ready! Devina shows you how.
10. Pamper yourself with litchi

Have all these DIY projects tired you out? Slather this unique banana and litchi mask and relax while the fruity goodness gives your skin a peachy glow. Try this mask recipe by Anamika and wow everyone during the holiday season!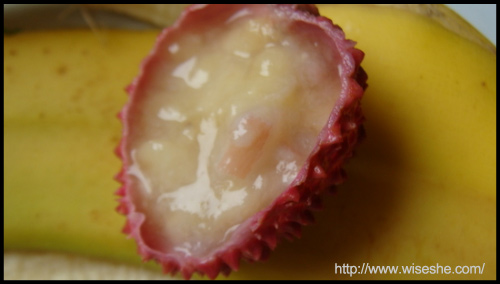 Try these awesome DIY's and let us know what the results look like. If you have your own
DIY's or

liked someone else's, feel free to post in the comments.