Bloggers, are you ready for another stint of creative writing? We are really excited to see what you come up with, so we have a brand new prompt just for you.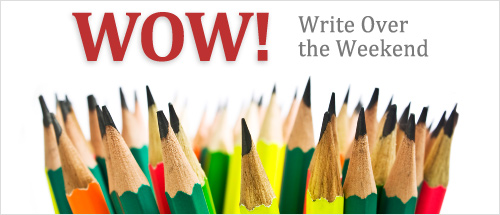 Write Over the Weekend inspiration for this time
Write a story which contains the following words- 'Cycle, Hotel and Family'
Intrigued? Yes, you have to write a story which connects the dots between 'Cycle, Hotel and Family. These words are of course not connected to each other, but we are confident that you can weave a beautiful story out of them if you put on your creative writing caps!
We all have experienced the three words in some form in our lives. We want you to take these common words, and reinvent them into a story which deserves the WOW badge! So get writing and show us your limitless creativity!
Remember, you have time only till Sunday midnight!
Include this code:
This post is a part of Write Over the Weekend, an initiative for Indian Bloggers by BlogAdda.
*You can also do a good deed during the weekend by participating in the #BlogToFeedAChild activity till 11th December.
Every weekend, we give prompts for you to creatively write on! Hope you enjoy our creative writing inspiration for this week. 🙂
All those who are featured in WOW can now flaunt the WOW badge on your blog. Download your badge now!