In the society we live in today, there reside a large number of unsung heroes around us. No doubt that there are not-so-good things that happen around us all the time but what we fail to see is that somewhere there's a kind soul willing to help you whenever you're caught in an unfamiliar situation. We believe it is time to recognize and talk about these unsung heroes.
Update: We have a surprise twist in this activity for you. Scroll down to read more.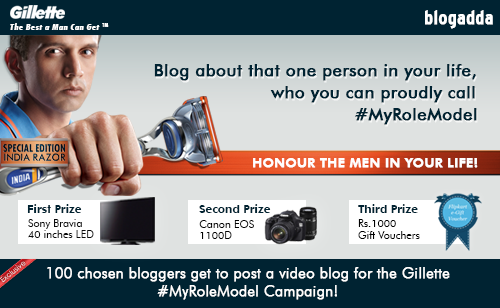 Update:
#Selfie Activity
For the first time in the Indian Blogosphere, bloggers are going to be a part of a special #Selfie activity. This is not just another #Selfie click. You will be clicking a #Selfie with your Role Model and post it on your blog. Including a few lines on why you think he is your Role Model will get you brownie points and make you eligible to win the prizes for both the below activities. 🙂
What are you waiting for? Select the front camera on your phone and say cheese with your role model and aloha, #Selfie is done!
In case you need any tips on how to take a #Selfie, click on the link below:
Update 2:
More Reasons To Smile, More Reasons To Write!
We are here with more good news! Everyday the first 50 entries we receive, here's a special something for you!
The role models you talk about in your posts will receive a special #MyRoleModel Memento! 
—————————————————————————————————————–
In the video, we see Rahul Dravid thanking his father for being his true role model. In this story, a young boy recalls how his father taught him the important lesson on taking every hit in his stride but still carrying on. He was a true role model and a man of #innersteel. We're here to celebrate all the men of steel we've ever known!
Gillette defines inner steel as passion for winning & doing the right thing with integrity. It's this unfailing courage to go further & to perform the best to one's ability. We all have a 'man of inner steel' in our life. He is someone who teaches you so much about life without actually teaching you. A person who always inspires you to do right. A gentleman for sure but also someone who will fight for his right.
He may be shy, someone who talks less, an introvert even; but he is someone who won't be afraid to speak his mind and stand up for what's right. That's the person we're looking for.  He is the one who you would want to be like. He is a Man of Honour.
We're here to celebrate and recognize all the men in your life who've been your role models!
Write a blog post with at least 300 words about your 'Role Model'. This is your chance to tell us about someone who you can rely on and idolize him for his passion for winning or doing the right thing with integrity or something as trivial as helping someone in need, even if it means going out of his way to help a stranger.
He could be anyone, from someone who inspires you to someone who takes care of you at all times. Share the story of A Father figure, A Brother, A Colleague or someone completely unknown to you – your watchman, a newspaper guy, a vegetable vendor? It could be a situation that you witnessed to believe that he is indeed a hero or just his clarity of thought that left you spellbound!
We also have something exclusive for you! Read on…
For the first time, 100 lucky bloggers will have the opportunity of making and submitting video blog posts for this activity!
You have to express your interest for making the video blog post. If you're among the shortlisted ones, we will notify you via email. After which you will create and upload a video blog where you capture the story of your Role Model. It can be a video of your story about your Role Model, or a story from your friend who may have witnessed this man of inner steel. This is your chance to give your friends or people you know, a platform to share their story about their Role Models.
Your Blog can be THE platform for all those untold stories about men who make a difference.
Feels good already, doesn't it?
We've got prizes that will blow your mind!
The Best Video will win a Flipkart Voucher worth Rs. 50,000!
100 bloggers selected for making video blog posts will win Flipkart Vouchers worth Rs. 1000 each.
Express Your Interest Here!
The prizes for the #MyRoleModel Blog Post Activity are as follows:
The best entry will win a Sony Bravia 40 inches LED.
The next best entry will win a Canon EOS 1100D.
The next 10 best entries will win Flipkart Gift Vouchers worth Rs. 1000 each.
The first 50 valid entries will receive Flipkart Gift Vouchers worth Rs. 250 each.
I am writing about #MyRoleModel as a part of the activity by Gillette India in association with BlogAdda.com.
Go ahead, show some love & write 😀
This activity will be judged by:
Kiran Manral –  Speaker at #WIN14 & The Author of best selling books, the most recent being 'Once upon a crush'
and 
Laxmi Hariharan – Among the top 5 Personal blogs in India, Creator Ruby Iyer & kindle bestselling author of Bombay Chronicles.
P.S. Multiple posts up to a maximum of 5 posts are allowed for both Blog Post & Video entries.
The last day for this activity is June 30th. 2014.