Many people say that 40 is the age when Women get the guts to take back their lives, seize the day and glorify the new season. It's the time which is also right for a little self-indulgence. We have one such blogger at our Adda today. She makes the word 'Mom' sound beautiful. Apart from her blog, she founded an organization called IndiaHelps and is also a director of a company. Above all, she is a Mom to one of the cutest brats around. We are pleased to have Kiran Manral at our Adda for this free wheeling interview where she talks about her life, blog, brat and much much more. Let us enter the world of Thirty Six and counting…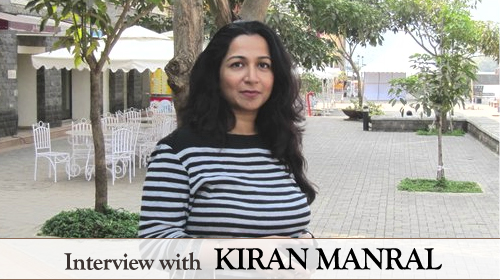 Q: When and why did you start blogging?
I began blogging in 2005 on a platform called blogsource. The blog url was www.thirtysomething.blogsource.com, and the blog was primarily much along the lines of what is today Thirtynineandcounting. While I was doing thirtysomething, I also began Karmickids to write about my son and my parenting experiences. Blogsource unfortunately shut down overnight, and I lost my blog completely, which is when I picked myself up, mopped my tears and began thirtynineandcounting.
Q: What topics do you generally blog about?
I have many blogs. Karmickids is about parenting, and my son. Thirtynineandcounting is about me, the woman. Then there is India helps which was an initiative I founded after the 26/11 terrorist attacks, and Kiran Manral – all things bright and beautiful which is more about new products in the market. And of course, there is the collaborative blogger awareness initiative, Child Sexual Abuse Awareness Month, which was done through April 2011 to highlight and create awareness about child sexual abuse and which BlogAdda very graciously partnered with us for.
Q: Do you ever get stuck when writing an entry? What do you do then?
I give myself ten minutes to write a post. Of course I get stuck. And if I do, I just close the page and come back to it later.
Q: Do you promote your blog? What promotional techniques work best for you and why?
Not really. Except for the auto publish on facebook and twitter when I do a new post for my wordpress blogs, I don't do any publicity. Maybe BlogAdda can give me some tips on what I need to do.
Q: You have written a lot about your life after 36. How was Kiran Manral's life, professionally and personally, before hitting 36? Not many know that you started as a journalist. Any regrets of having/not having done something previously?
Actually I began blogging when I was 33. Â I began my career as a copywriter moved onto journalism, worked for newspapers like The Asian Age and The Times of India, and magazines like Dalal Street Journal and Cosmopolitan. Then I quit, to have a baby. After that I have been freelancing as a feature writer, and I also do handle creative duties at my husband's advertising agency.
Regrets? Life will always have regrets, but if one has made certain choices, one needs to realize that one cannot afford to have regrets. I am quite content with the way life has gone for me. I did what was needed at that certain point in my life and have tried to evolve with the changing times.
Q: Many women quit taking care of themselves after they cross a certain age. What are your tips to these women, on taking care of themselves physically and mentally?
Far be it for me to be so presumptuous to give any women any tips because I'm not one who takes any care of myself. I would just say live life to the fullest you can, be happy, and avoid toxicity. And yes, put yourself, your health first.
Q: As they say, 40 is the new 30. So, what thrills of life does a person in their 4th decade on earth, is likely to experience? What mental changes does one undergo?
I have just entered the fourth decade, I may be better qualified to talk about the thrills of life in the fourth decade post hitting it. 😉
Q: One of your posts, of celebrating your 12th Wedding Anniversary, mentioned that your husband doesn't read your blog. Has this changed since then? What would/did he say, if he read the anniversary posts or the one's marked with memory of shoes? 🙂 Does he also have interests in blogging or writing?
Oh he still doesn't read ANYTHING I write. And I love him for that.
Q: In a discussion with Rajat Kapoor, on reinventing relationships, you said that every relationship undergoes and requires reinvention with time. You've been married to your husband for 15 years and been his girlfriend for 6 years. So, that makes it 21 years of a strong relationship! 🙂 According to you, what are the important factors to sustain a fragile relationship, if we can say so, of today's day and age? What do you think lacks today and how different it is, in a good way, from the earlier generations?
Relationship advice! Take each day as it comes. You are not perfect, don't expect your spouse to be perfect. Give and take. And, keep ego in your back pocket. It won't kill you to try and make up if there's been a fight. And always keep a sense of humour. Nothing is so bad that you can't get through it together.
Today's generation, honestly don't know, since I'm a dinosaur myself. What I see around me today is a lack of commitment. A lack of determination to see a relationship through thick and thin, and too much I, me, myself. But then, I do see some lovely young couples who are very sensible about life and love, and am sure every generation evolves their own rules.
Q: It has been 4 years since you are in the blogging world. Talking of reinvention, how many times and what kind of experiments have you done with your blog, in terms of the content, writing style, etc.?
A: More than four years in the blogging world actually. Reinvention? None. I am terrible at reinvention. What is up there is what it is. I may have changed the templates a few times and the pictures on the sidebar but that is about it.
Q: Being the founder of India Helps organization, what kind of help do you wish to provide on a larger scale, in future? What were the initial thoughts when you started this company? Share with us some moments that gave you intense pleasure of helping someone in dire need, through India Helps.
On the larger scale, in future – No plans. We take it as it comes. We are a volunteer network and take on individual cases as they come to us.
I began India Helps as just an attempt to connect the victims and the bereaved of the 26/11 terrorist attack with people who would like to help them. People joined up and joined forces and within a month we were a team of people, with absolutely zero experience in social work but organizing groceries, medical aid, funds, helping with documentation. I think the fact that we didn't know the 'procedure' for social work actually helped us go out there and get something done. I'm immensely proud of each and everyone in the IH team for the way they put in time, effort and most importantly, emotion into their helping of the victims.
Something I am immensely satisfied with, is the case of Karuna Waghela, the widow of Budhabhai Waghela, who was shot dead by Ajmal Kasab while he was having dinner in his house. After her husband's death, her in-laws took away all the money she received in compensation and really made her life miserable. She got residential quarters from the government and a job at GT Hospital and moved out of her in-laws home with her three children. She now works, supports her children and is strong and confident enough to tell us she doesn't need any help.
Q:Â Child Sexual Abuse Awareness Month (CSAAM), 2011 received an overwhelming response, with people coming in and sharing their stories. As a mother, what precautions do you take to protect your child from sexual abuse? What thoughts would you want to share with our readers, regarding the collaborated initiative, CSAAM? After two successful initiatives in helping people and spreading awareness, what social evils do you wish to target next?
As a mother, I think one just needs to be sensible and careful about one's child, be aware of where your child is, who is with him, and educate your child about his or her personal boundaries. Also, it is very important to empower your child enough, for them to know that they can come to you with anything and that you will not judge them or get angry with them.

CSAAM, after India Helps, has been one of the most fulfilling things I have done. Collaborating with wonderful blogging pals, we managed to create a platform for many women who have been victims of CSA, to narrate their stories and get some catharsis. We have put facts about CSA out to people and we have made parents more aware and alert. If one parent and one child has been helped by our CSA initiative, I would consider it a success. I think the biggest positive achievement of the CSA initiative was that, it brought CSA out from under the carpet and made it something that the victims should not be ashamed to talk about, because they are not at fault, and they need not bear the guilt and shame of some one else's actions. Also, the initiative did empower a lot of victims to seek professional counseling to work through unresolved issues.
We have other issues. We plan on doing awareness months around, and are currently working on the next. Expect an announcement soon.
Q: Your child, a.k.a. the brat, was going through a phase where he was doubted to be autistic. What was going through you and your husband's mind? How did you cope with it? What should parents in similar situation be careful about?
How did we cope with it? We got down to business and put him through three years of speech and occupational therapy. We worked with him. As I am sure any parent who has a child in similar circumstances would do. We never treated him any differently from other kids his age, though his father would argue that I am very protective about him.
God bless all the parents who have children in the autistic spectrum. It is one of the toughest challenges life can hand one. I have no words of advice except work hard with your child, and have faith.
Q: Amy Chua is known for her strict Chinese parenting style through her book. You are certainly not the one to take away childhood away from your child. So, what suggestions and points-to-note would you give out to newbie parents? In today's day and age of competition, how should one treat their children academically? How and why do you think the education system of India needs to improve?

Gah. I'm terrible with handing out advice except unsolicited advice. My philosophy has always been let the child be a child. Let the child have a fixed schedule through the day which does include one or two hours of unstructured play with peers. Expose your child to as much as you can of the world around them. Children are like sponges, they soak up everything around them. Believe in your child, and try not to push your child academically, every child has some skill or talent that he or she will be good at, let your child lead his or her own path.
I am seriously seriously worried about this system that is becoming so cut throat that a point percentage is leading children to commit suicide. How does it matter? How many board toppers do we remember today for what they have achieved in their adult lives? I think we have confused getting an education for getting marks, marks achieved by rote learning. There needs to be a serious rehaul of the education system in India, and a system where children of all capabilities can be ensured of getting a complete education. With such ridiculously high cut offs where do the average children go? Are they not entitled for an education? Alternate streams of education should get the respect they deserve, pushing children towards IIMs or IITs needs a rethink, the abominable practice of interviewing pre primary kids for admissions needs to stop. The entire system needs a complete rehaul. I have great hopes from the education reforms Mr. Sibal is trying to bring about and trust they are a step in the right direction.
Q: Whenever you switch on the Television and come across any advertisement, it is likely that you will see kids around everywhere. Even if the product is nowhere related to the child. We realize that the children play a very important role in decision making now. But, according to you, is it fine to expose the children to this industry, to such a large extent? What are the plus points and disadvantages of it? What are your views on the current advertising scenario, good and bad?
Some countries have imposed a complete ban on advertising targeting young children. I recommend India follows a similar policy. Young children cannot tell the difference between advertising and programming.
Having said that, using children in advertising, adds to the cuteness quotient of the ad and makes it more appealing. I seriously do feel that some of the advertising that comes on GEC channels at prime time should be screened for suitability for child viewing.
And yes, children are increasingly becoming brand influencers not only for FMCG products but also for Electronics, Computers and even Car purchases in Indian families. The entire dynamics of the Indian family has changed and from a joint family with a patriarch taking unilateral decisions, the entire decision making process has become more democratic with wives and kids having their say in what they should be bought, which is not actually a bad thing.
Q: Extra flab, pimples, long gone denim jeans, PMS and similar things on your blog, make your life an open book. Do your friends and family read any of these posts? Do you/would you limit brat (your son) in reading some of your blog posts?
Well, my life is an open book, and yes, my family and friends read my blog and comment on it or discuss my posts with me. I do make a conscious effort not to put down anything that could be misconstrued or cause pain to anyone who is part of my life. I wouldn't limit my son from reading anything, because nothing that is posted is fictional. Ah yes, if he feels he doesn't want to be written about, I might just stop karmickids as a chronicle of his growing up years.
Q: Following styles and trends is also one of the things you do, through your other blog that is dedicated to everything that a woman needs. How did the idea to create this blog come about? Which age groups do you refer to with fashion tips, in this blog?
This blog, Kiran Manral was born simply because I do get a lot of interesting press releases in my capacity as a freelance feature writer which I don't use anywhere, and needed to share them with the world. And I love fashion, though I might not wear too much of au courant stuff, and this blog is a place to talk about both fashion and lifestyle products and trends. There's no age group I target as such, it is primarily a blog that is targeted towards women though, I would say late 20s upwards.
Q: Other than blogging and running around brat, what are the things which keep you busy throughout the day? What are your hobbies and interests?
I write freelance features and handle creative tasks at an agency. It is a full day's work. I also read a lot. Apart from that, I am rather boring. A typical suburban hausfrau.
Q: You are also very active on Twitter! 🙂 What keeps you hooked up to this space? How has it helped you and your blog to outreach an audience?
I love the instant interactivity of twitter and the fact that it gives me an instant window to interesting people whom I would have never met in the real world. Well, apart from the updates on new posts, I do keep the blog and the twitter world apart.
Q: How important is it for the blogger to interact with their readers? Do you respond to all the comments that you receive?
Immensely important. I do try to reply to all the comments I get, not that I get too many, but often slack on it. And then make up for it on one fine morning dedicated to comment replies.
Q: What do you find to be the most gratifying aspect of blogging?
The connection it has given me to so many wonderful people all across the world, who have gone from being readers to becoming good friends.
Q: How, in general, would you rate the quality of Indian blogs? Share your favourite five blogs.
I wouldn't be so presumptious to rate the quality of Indian blogs.
I have great hopes from the education reforms Mr. Sibal is trying to bring about and trust they are a step in the right direction.
My favourite blogs:
Q: What is your advice to someone who wants to start a blog?
Just get out there and write. Write for yourself though and not for an audience.
Q: Do you earn revenue through your blog? How does one go about it?
No I don't. I'd applied for Google Adsense for Karmickids a long time back and they told me my blog didn't fit it or something to that effect, and I never bothered again.
Q: According to you, what is the future of blogging?
Well, it is taking over the daily newspaper for most people. And you do get to read a lot more informed views on the blogs than you do in daily newspapers.
Q: Let's conclude off with a few favorites.
Color: Black
Movie: The Lord of The Rings Series.
TV Show: Criss Angel Mindfreak.
Book: Anything by PG Wodehouse and J RR Tolkein.

Time of Day: Late night, when the house is asleep.
Your Zodiac Sign: Cancer.
Readers, What is your biggest take from this interview? Do let Kiran and us know. 🙂 Kiran, Thanks a lot for this wonderful interview. It was a pleasure exploring the world of Thirty Six and counting Mom who is so full of energy and commitment.