A person who absolutely loves to write satire and believes her blog is just an extension of her love to make her close ones laugh! A woman with strong opinions on subjects that matter. She used to teach before she took to blogging as a full-time career. Her blog posts will always leave you either amazed or inspired! She agrees on the fact that today she is hopelessly addicted to social media and claims that her blog will always remain her identity. Here's a spectacular interview with the dil se Dilli- ite Purba Ray, the winner of the Best Blog Award for the Humour & Satire Category!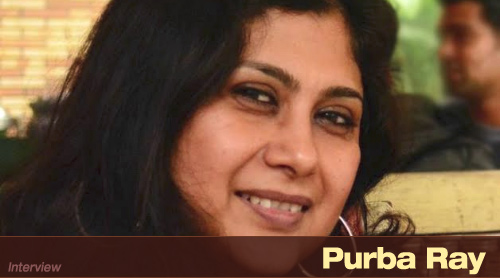 Q. When and how did you start blogging?
A: It was by sheer accident. Towards the end of 2009 I took a 6 month hiatus from my job. Fifteen days into my break, I wrote a note on the joys of being untethered from the rat race and shared it with friends on Facebook. One of them happened to be an established blogger. Soon I was writing for his forum Drishtikone.com and then Desicritics.org. A few weeks down the line, Desicritics put the spotlight on me – that's when I realised I needed a space of my own and A-Musing was born.
Q. You write hilarious satire! This is the tone for a majority of posts on your blog. Tell us how your interest in this genre begin and grow?
A: My first attempt at 'hilarious satire' began as a six year old who was suddenly displaced as the centre of her parent's universe by her wailing, scrawny, constantly drooling baby brother. The only way I could get back at him was making him the centre of my acerbic sense of humour. Of course, I had to wait an awfully long time for him to grow up and appreciate it. Let's just say I spent my entire girlhood running away from his murderous rage for having been at the receiving end of yet another joke at his expense.
On a serious note, I have always loved making my family and friends laugh. My blog is simply an extension of it.
Q. Other than satire, what are the other genres and topics that you like attempting to write on?
A: Public apathy, our lack of civic sense, the appalling state of women's safety – anything that has moved me or filled me with helpless rage – I have written about it.

Q. What are the changes blogging has brought about in your life?
A: I'd like to believe blogging helped me grow as a person and a writer. It is through this medium I discovered my ability to communicate, reach out and also poke a little fun at myself. It has helped me connect with people beyond the realm of my usual relatives-friends-colleagues circle. My canvas of awareness is much wider. I also take interest in other writers' works in blogosphere and love soaking in perspectives and points of view so different from mine.
Q. You were a teacher before you started your career as a full-time blogger. How was it interacting with and being around the young and bright minds of the country?
A: As a teacher I realised how hard you have to work to earn your students' respect. It didn't exactly help that with my petite frame I could easily be mistaken as one of them. So, I did what I still do on my blog – make my classroom sessions as interesting as possible, with liberal doses of humour and interactive sessions, hoping fervently that my students would enjoy the process of learning as much as I loved teaching. Of course, that didn't always happen. But at least I tried.
Q. What are the kind of reactions you receive when you mention to people that you are a full time blogger?
  Duh?
 What do you do besides blogging?
 Do you get paid for it?
 Wow! Followed by complete silence.
Q. Apart from blogging, what are the other activities you love engaging yourself in?
A: I love travelling and fancy myself as a gastronome who loves trying out new cuisines as long as it's cooked and doesn't have blood oozing out of it. I'm bit of a fitness freak who gets her adrenalin high by pumping iron, jumping on trampolines and nursing her sore muscles for days.
Q. You won the Best Blog Award for the Humour & Satire Category by BlogAdda at WIN. How did you and your loved ones react to this?

A: I was so busy screaming and jumping with joy that I didn't give them time to react. They are proud of me, especially my husband who has always been my pillar of support.
Q. We learn that you are a social media addict. Between your Blog and Twitter Account, if you had to choose one, which one would it be and why? (Purba has written an amazing guest post, 'Confessions of a Social Media Addict' for us.
A: Of course my Blog. I only got on Twitter to promote my blog on it. It's another matter that I am now hopelessly addicted to Twitter but my blog will always remain my identity.
Q. Since you are a veteran blogger, what would be three pieces of advice you would give to people who want to start blogging?
 Your writing should reflect your personality. Always think of your readers as a group of friends you need to engage with and not as an audience that you need to impress.
Difficult language does not translate into good English. Keep it simple and sharp. Typos and grammatical errors are major put offs and so are huge blocks of texts.
Read, explore, interact and never be afraid to commit mistakes because there are valuable lessons to be learnt from them.
Q. We understand that you are settled in Brisbane, Australia now. Tell us three things about India that you miss the most.
A: It's only after I moved out from India I realized that the chaos, noise and the constant drama on our national networks that annoyed me so much were the very things I missed the most. Back home, you can be lonely but never alone, the constant humdrum is like a balm for your soul.
I miss my country madly during the festivals – the crazy rush at the markets, the electric atmosphere, the colourful festoons and the yummy goodies I got to devour.
I am always craving for mithais and chatpata khana. So yes, I miss our gorgeously diverse cuisine. It's a pity that the world gets to eat a lame version of Punjabi dishes as Indian cuisine.
Thankfully my move to Brisbane is temporary. I'm hoping to be back by the end of this year.
Q. Tell us a little about your schooling days from Delhi.
A: I studied in Springdales, a school that helped me shape my personality and made me believe that there's nothing I could not achieve. From clay modelling, to detergent making, to teaching pre-delinquent kids, to visiting hospitals to spend time with the ailing, to singing the South African national song with gusto when Winnie Mandela was visiting our school – I have done it all.
Q. How would you define yourself in three words?
A: Impulsive, Inquisitive and Restless.
Q. Tell us the names of 3 books you loved reading and 3 movies that you can watch any number of times.
I like watching movies that make me smile but are also poignant at the same time. I'm particularly partial to Woody Allen and make it a point to watch all his movies.
Q. Tell us your favourite quote.
A: "It used to be about trying to do something. Now it's about trying to be someone."
― Margaret Thatcher
Connect with Purba Ray: Blog, BlogAdda, Twitter, Facebook, Google+, Pinterest.
Thank You Purba for a great interview!
For all those who missed #WIN14, you can relive it through the photos!
Bloggers, we hope you enjoyed reading this Interview with Purba Ray where she tells us her blog story and how it has helped her grow as a person.
We look forward to your feedback about this interview.