Shopping! The one word that can bring a smile on anyone's face. There's a different kind of joy that you experience whenever you finally possess something "new"! Who doesn't like a new shirt or a new bag or for that matter even something as small as a new toothbrush?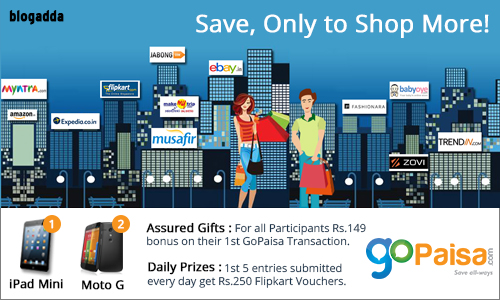 As people who love shopping, we do not need occasions to shop, we create them! Be it a friend's party or your second cousin's son's graduation, all we know is that we need to shop! Before we even realize, there's a huge hole that we've created in our pockets while happily picking up stuff when on our shopping spree. To avoid these situations, there are a few friendly sounding words like coupons, discounts, cashback and good bargains that come to our rescue!
Does getting a good bargain give your ego a boost? Do "coupons" and "discounts" sound like music to your ears? Is trying to stop shopping, once you log on to an online shopping site the toughest task for you? Do you notice that your bank balance has reduced substantially, only once you are home after a long day shopping? Congrats! This activity is made just for you!
Keeping all this in mind, we have a very interesting activity for you starting today.
An activity where you have to write a blog post consisting of the three words, "coupons, cashback and bargain!"
Write a witty conversation revolving around coupons or maybe just about the best bargain you got the other day when you were shopping! You can write about that feeling of accomplishment you get when you receive cashback or are just in time before the big sale ends!
The fascinating prizes for this activity are:
The best post will win an iPad Mini Retina Display 16GB Wi-Fi.
The next best post will win a Moto G 16GB.
Everyday, the first 5 valid entries counted from 10:00 a.m. IST get a Flipkart Voucher worth Rs.250.
All valid entries win Rs.149 bonus on their first GoPaisa Transaction.
This post is a part of the Shop, only to Save More! Activity by GoPaisa.com in association with BlogAdda.com.
Looking forward to all the shopaholic entries 🙂
You can send in posts for this activity till March 27, 2014.
GoPaisa.com has a mission to revolutionize the online shopping experience of Indian consumers and help them shop smart. It provides cashback and coupons on an extensive range of products and services such as travel, lifestyle, apparels, electronics & the list goes on…
Terms and Conditions (PDF)
Bloggers, we hope you enjoyed sharing with us your shopping experience and writing innovative posts with the words coupons, cashback & bargain. We thank You for your amazing response! This activity is closed now.