Laughter is the best medicine. This has been one of our favorite lines since our childhood. But there are times when silence is golden. What happens when both of them happen in a single story? Let us do some creative writing.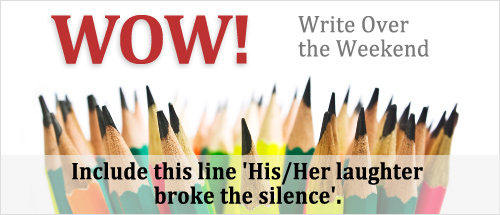 Write Over the Weekend theme for this week
Include this line 'His/Her laughter broke the silence'.
Are we all set? Start writing and keep blogging. Remember, you have time till Sunday midnight!
---
What is WOW?
With social media taking over our lives, do you feel your blog is not getting all the attention it deserves? Are you one of those who want to write, but are either spoiled for choices or having nothing that is inspiring you to write? We, at BlogAdda, understand just that and thus decide to bring to you an initiative that you shall await just as eagerly as you await weekends.
We are very happy to announce a brand new initiative at your Adda which will rekindle your love for writing again. Presenting to you 'WOW – Write Over the Weekend'. 
Write Over the Weekend (WOW). As the name suggests, we at BlogAdda want to rekindle your love for writing. We want you to continue writing just for the love of it. We want to bring your creativity back to the fore. We want the community to know you for your writing and your creativity. It is as simple as that.
WOW! This is exciting. What do I do next?
We want it to be very simple. Every weekend (well, almost), starting from today, we will announce a theme on which you can WOW.  You can submit your blogpost links in the comments section below. The best entries will get special badges to flaunt on their blogs. Kindly copy-paste the code below at the start/end of your entry to be a part of this initiative.
Also, please do check out our latest initiative to create a community on parenting. It is called Parentous.com
Update: All the posts that were a part of Write Over the Weekend were really WOW. But as we had said that we will feature the entries that were really really good, here they are:
http://chowmiaow.blogspot.in/2012/11/heart-broken.html
 All those who are featured above can now flaunt the WOW badge on your blog. Download your badge now!