Update: Deeba Rajpal and Rekha Kakkar, esteemed food bloggers, will be speaking and sharing their experience on food blogging at the workshop. This is a wonderful opportunity to meet and hear the experts. 🙂
Dilli, Dilwalo ka Sheher hain. The city known for its food has been calling us to host a workshop after our very successful workshops in Mumbai and Bangalore. How can we not heed to the call? So, here we are with something very very special for all the foodies in Delhi.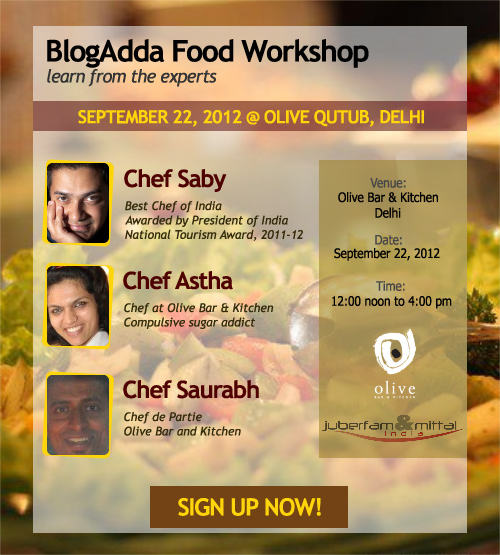 Delhi is known for its grandeur and keeping that in mind, we have a specially designed workshop which will be one of its kind. 🙂 Yes, it is a promise. Presenting to you a Food Workshop jointly hosted by BlogAdda.com, Juberfam & Mittal & Olive Qutub, where you will Cook and Style with Chef Saby, Chef Saurabh and Chef Astha. 🙂
What we have in store for you?
First of all, we are going to make your afternoon a one to remember. How do we plan to do it? Some things are good when it is kept in the surprise mode. Isn't it? For now, here is the trailer of the main agenda.
Saby and his team will cook a three course meal live. You can witness the way they cook, the secret ingredients that make the dish a special one, the skills and lots more.
Interaction with Chef and his team on all your queries about food and the secret tips.
Lunch with Chef Saby and the fellow bloggers at Olive Qutub.
Surprise activities.
Tea time chat.
Hampers, gift vouchers and Asta la Vista time.
I want to attend this workshop. How do I sign up?
It is as simple as that. Just fill in your basic details and we are good to go.  We will be sending you a mail after we receive your registration with the payment details. The fees for this workshop is Rs 2000 (inclusive of all taxes).
Now that you have signed up, Know more about the Chefs and the Juberfam & Mittal.
About Chef Saby:
Chef Saby (as Sabyasachi Gorai is popularly known) is Director of Kitchens for Ai, the Japanese restaurant, Lap the club, Olive beach, Olive Qutab and the moving kitchen by Olive. Long regarded and rated as one of the top chefs of India, he was awarded the elite "Gourmet Gurus 2011″ and subsequently best international chef 2012 of the country by food and night life magazine. His biggest accolade came when The President of India Smt. Pratibha Devi Singh Patil along with Minister of tourism conferred him with The National tourism Award 2012 for "The best Chef of India", standalone restaurant. The flagship restaurant Olive Qutub at New Delhi has featured in top 50 Best restaurant of world to top 50 restaurants in India along with many other accolades
Saby has trained extensively and undergone specialized Chef's Courses. "Pastry school in Paris, culinary school in USA, Pasta Academy in Italy to name a few. He has worked with two iconic chefs in Australia, Sydney. Chef Neil Perry at Rock Pool Sydney and Chef Tetsuya at the world famous Tetsuya's restaurant in Darling Harbor Sydney. He constantly travels around the world especially through small towns of France, Italy and Spain discovering classical recipes and flavors from the Mediterranean.
Chef Saby recently represented India in the "World tour of chef's against hunger" in South Africa to work for charity. He is also a very active member of the chef's society in India and promotes the culinary profession. He is attached to many social causes and charity.
His passion also includes contemporary Indian food. He was also a guest chef at the Salone De Gourmet Madrid; 2011. His mouth watering recipes have been regularly featured in the gourmet section of leading newspapers and magazines. Reputed food critics like Maryam Reshi, Sourish Bhattacharya, Rashmi Uday Singh, late Sabina Sehgal Saikia, Siddharth Kak, Meher Moos have also given rave reviews about his delicacies. All restaurants headed by Saby have won multiple food awards.
The recently concluded Formula1 event also saw delectable menu catered by the renowned Chef. An idol for young aspirants, Chef Saby constantly strives to explore the infinite world of gastronomic delights with his honest love for cooking, a passion turned into profession.
About Chef Saurabh:
Chef Saurabh is senior chef de partie at Olive Bar and kitchen, Mehrauli. He has got his formal training & degree from I.H.M Bhopal. After the college he got enrolled into Chef's training program of Olive bar & kitchen, New Delhi, in 2007 which in turn changed his life. At Olive during his training he got great opportunity to work with different outlets. Almost working an year with Olive Beach he got his training in the Mediterranean & European  cuisine. In 2008 he got transferred to 'ai' The Japanese Restaurant. There he got trained under few of the great Japanese Chefs from India & abroad.
About Chef Astha:
Having had quite a nomadic existence Astha even as a small child she loved the happenings around home cooking and also looking out for varied options for vegetarians! Having no prior professional kitchen expertise she wanted to learn about the basics of fine dining food and has been with olive for six months now.
Apart from being a compulsive sugar addict, she loves to travel far and wide and read extensively.
About Juberfam & Mittal:
Juberfam Mittal brings you the opportunity to be part of one of the most biggest producers of food and beverage in Europe. Our products essentially from Spain have very high standards of quality. It is commonly known fact that the best quality of Olive Oil & Olive fruit, Pate & Sea Salts, Tuna Fish in Olive Oil, Cold Cuts, Smoked Paprika, Beverages, Natural Cosmetics. Many other products are produced in Spain and exported to the rest of the world. India, one of the fastest growing countries in the world and deserves the best. Juberfam Mittal is ready to provide one stop solution for the F&B industry and end consumers in India.