Food, the basic thing that keeps us going. Food, the topic that is taking blogosphere by storm. Food, something which we at BlogAdda love to be associated with.
The texture of the chocolate sauce, the perfect capture of that goblet of honey on pancakes, the art of making the stomach churn merely by the sight of the stylish salad bowl, and you thought food only made it from hand to mouth? The art of whipping up a dish, styling it and clicking it to store forever, all served on a platter by yours truly, BlogAdda.  Read on as we have something very very special for you.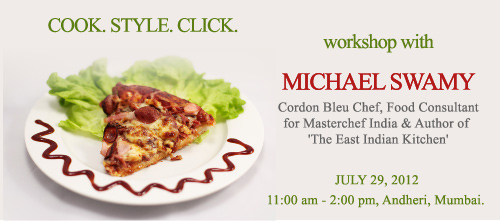 We all love the show Masterchef. Don't we? Wouldn't it be a dream to learn the art of cooking, styling & everything that makes a perfect Masterchef dish from a cordon bleu chef?
Presenting you an opportunity to learn cooking, styling and photography with Michael Swamy. BlogAdda & Michael will show you how to take things to the next level. Get ready for a day where you will be intrigued by things that you thought you could never do. This could be tips on how to improve your food styling and photography, tips on being a better cook, ways to increase your visibility, develop your brand, and how to break into the exotic world of food! BlogAdda is here to guide you along the way.
What we have in store for you?
An interactive cooking session with chef, Michael Swamy and one of the leading chefs of at Fat Cat who will teach you a few of the innovative dishes that they are known for. Spluttered with tips about cooking and ingredients, this promises to be a unique opportunity where you can learn the favorite dishes of the chefs, their own way! Treat it as a sneak peak into their kitchen, who knows you may not get this opportunity again.
Even the most lip smacking dishes need to be styled well for the stomach to rumble, so say the psychologists and even the world famous chefs. Let our own cordon bleu chef teach you the basics of styling your dishes. Trust us, the next time they shall wonder if you hired an artist to paintbrush your dishes in the kitchen.
How can a workshop end without giving you enough lesson on how to show off! Thus Michael and his team will ensure that you know how to click enough pictures for you to show off each gourmet affair on your social networking sites, by teaching you the basics of food photography. Next time you not only know what goes in the dish, how to plate, but also how to adjust the light to make people drool over your photos.
Over a lavish lunch, filled with light hearted on spot activities, this is one Sunday which you are sure to remember for many a weekends. So what are you waiting for. Just click here and get yourselves registered.
Hoping to see you all over a gala affair this Sunday – with our celebrity chef, fellow bloggers and yes of course us at BlogAdda.
The course fee is Rs 2500 (inclusive of all taxes) that includes the workshop with Michael Swamy & team & lunch.
 Know more about Michael Swamy: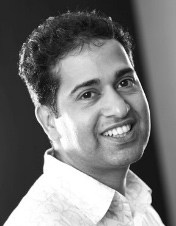 Michael Swamy is a chef and culinary creative, a food stylist, and writer based in Mumbai, India. A graduate of the prestigious cordon bleu culinary school, London, Michael worked with several Michelin chefs who observed his work closely and encouraged him to enter the world of food media. His mother having been a successful documentary film-maker, Michael literally grew up in studios, closely studying and handling various aspects of media from handling cameras to editing. This experience coupled with his culinary expertise helped Michael in creating a sound base for a career in food styling and photography – an art which he used effectively in changing the way people look at food.
As a food writer, he not only writes extensively on food, but is also the author of " The East Indian Kitchen" which won the gourmand award, 2011 for India.
Michael took his expertise further and put it to good use as the food consultant for MasterChef India season 1 & 2. Michael's cooking style is very classic French and as a chef, Michael has worked with several large brands like the Taj group of hotels (Mumbai), Bombay Brasserie (London), Kuwait airways (Kuwait) as menu planner amongst a few other brands. It is his belief based on the fact that it is rarely that a chef is noticed while working with a large brand. It's the chefs that step out and be different that make names for themselves.
The venue for this workshop is 'At Fat Cat', a premium bar and bistro at Andheri, Mumbai.