'Back with a bang' is a correct phrase that goes for us today! 🙂 We are back with an amazing book for review! This book has sold over 2 million copies in Japan, has been made into a cult film and has become a national obsession. Drum rolls! Presenting Keigo Higashino's The Devotion of Suspect X, under the book reviews program! Yasuko's life changes when her ex-husband appears at her door. Detective Kusanangi is trying to connect the dots and unfold the mystery of that night. Does this interest you? Then read further, we are about to surprise you.

We are giving away, not 30, not 50, but 100 copies of this book! Yes, 100 bloggers will read and review this book! 
Overview of the Book
Yasuko lives a quiet life, working in a Tokyo bento shop, a good mother to her only child. But when her ex-husband appears at her door without warning one day, her comfortable world is shattered. When Detective Kusanagi of the Tokyo Police tries to piece together the events of that day, he finds himself confronted by the most puzzling, mysterious circumstances he has ever investigated. Nothing quite makes sense, and it will take a genius to understand the genius behind this particular crime. One of the biggest-selling Japanese thrillers ever, and the inspiration for a cult film, The Devotion of Suspect X is now being discovered across the world. Its blend of a page-turning story, evocative Tokyo setting and utterly surprising ending make it a must-read for anyone interested in international fiction.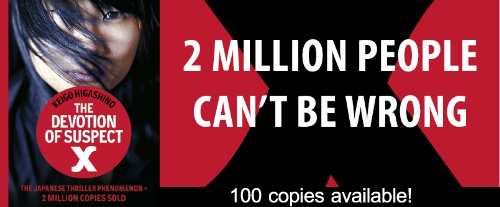 Interested? Sign up now
The review should be of 500+ words and should be posted on your blog within 7 days from the day you receive the book. The book has 374 pages. In your review, tell us about the story, the writing style of the author, main characters, their description, your likes, dislikes, expectations, etc.
To be able to review this book, you need to be a registered member of BlogAdda and your blog should be submitted & approved by BlogAdda. You should also have signed up for this program. If you have already signed up then head over to let us know your interest in reviewing this book.
NOTE: Even if you have signed up for the book reviews program, you need to individually apply for reviewing every book that you are interested in. 
This book can be yours! Click here to review this book now!
Thank you for your response. The reviews for this book have been completed. Check out Book Reviews for latest books, available currently.
If you want to receive books for free and review it on your blog, then sign up for this program now!