Cricket is a game that is enjoyed when watched in the stadium or on the television. There are some special people who write about Cricket and describe the game so beautifully, that you are just left numb after reading their articles and stories. We have one of them at your Adda today. When he writes, you can experience the emotions that he conveys through his posts. Yes, we are speaking about Siddhartha Vaidyanathan who is at your Adda for this special interview. He has been the former Assistant Editor at Cricinfo. For a change he is on the other side of the table. Umpires, ready?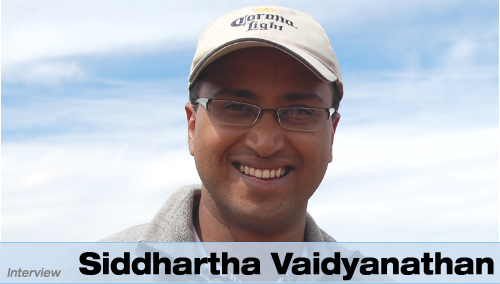 Q: When and why did you start blogging?
In May 2010 I wanted to write something on LeBron James. So I wrote a piece in a word document. As usual, I was planning to email this to a group of friends who followed basketball. Instead, I signed up for a blog and mailed them the link.
Q: What topics do you generally blog about?
Anything I have a strong opinion on. A lot of cricket, some tennis, some basketball. And some posts built out of random thoughts – Rajinikanth, Twitter, chess….
Q: Do you ever get stuck when writing an entry? What do you do then?
Yes. I save the document. And wait for a time when I can get back to it (which is usually never).
Q: What is it about Cricket that we all get hooked to?
It's like a soap opera. It's also like reality TV. And it's (mostly) unscripted.
Q: 'It took me a while to realise it but genius stays the same irrespective of the context.' – This was in reference to a post on Rajni Sir. Who else do you think are the geniuses of the current era and what do you think makes them a breed apart?
This is a deep question. What I meant was that we often refer to people as 'geniuses' after what they achieve in the limelight. But genius is also apparent in rather mundane situations. Like a practice session (in Tendulkar's case). Or a speech in front of a small audience (in Rajinikanth's case).
Q: 'Twitter ruins. It makes a lot of things in the real world appear trivial – when in fact it's Twitter that's often trivial'. You have also said 'It gives me a chance of meeting like-minded people who are more interested in what I tweet than who I am. And for that, I am grateful.' This was said at the end of 2010. How do you perceive Twitter now? Has anything changed?
Twitter has many rough edges. And my Twitter time has reduced considerably over the last two years. But it's often the best place to find great reading material. And there's always some light-hearted banter going on. There are a lot of smart people on Twitter.
Q: @kweezzz is a very interesting concept that was created for twitter. We would love to know on how, when and why did it happen? 🙂
It was waiting to happen. It began in August 2010. A lot of people were asking trivia questions from their Twitter accounts but they didn't have enough followers to respond. So the emergence of a community account (from where anyone could log in and ask questions) was just a matter of time. Today, with 5300+ followers, the @kweezzz handle will ensure you have at least 10 people interested in a quiz at any point.
Q: 'If you win a toss in an important game (yes, we know that's a big if but just in case) and are even remotely thinking of saying 'we'll field', take a deep breath and think again.' This was one of your advises to Dhoni before the world cup started. Eventually, they won the final's chasing. Dhoni has always been the guy who trusts his guts. What would you advise him and the Indian team now for them to bounce back?
Yes, they won the final chasing. It was a fine chase, but I think Dhoni would have batted first if he had the choice. Also, that post was not about giving Dhoni advice as much as talking about the disappointments in the World Cups gone by.
Q: IPL started as the Cricket ka Karmayudh. We have been reading reports mentioning how the extensive commercializing is affecting the game and the mindset of the upcoming players. What is your opinion on the same?
Another deep question. It's commonly assumed that the IPL is affecting the mindset of upcoming players. It's clear that the IPL is also helping a lot of upcoming players – mostly by offering them financial security. It's a bit too early to say whether the negatives outweigh the positives. The IPL is not going anywhere. It's here to stay. And like most franchise-based leagues, it will gradually evolve.
Q: Controversy and Cricket both go hand in hand. 🙂 A lot of the controversies are swept under the carpet or are forgotten. While at cricinfo, you would have come across a lot of inside stories which didn't come out in the open. Any that you think should be shared now?
I have shared a few on my blog. Most of these stories need some context. They don't really stand alone.
Q: Any cricketer playing for his country today is under immense pressure to perform which could be both internal and external. What do you think are the things that an upcoming player has to take care of to not let the pressure affect his performance? Any examples that you may want to highlight?
I would like to think an experienced cricketer would know best. And I hope these young cricketers are asking the pros for advice. I don't know enough. I'm bad with advice.
Q: Sachin Ramesh Tendulkar, the idol every indian wants to emulate. What are the professional and personal qualities that you want to highlight which has made him what he is today and which we can learn as well?
He takes every practice session seriously. He is completely devoted to the game. He's humble. These are rare qualities, especially among extraordinarily successful people.
Q: We have players like Virender Sehwag, Yusuf Pathan and more who can bludgeon the opposition on any given day. Why do you think inspite of having such talents in our team the consistency seems missing? It becomes a case of taking a chance vs consistency. How do you think can the perfect balance be created?
You need players who can be unpredictable. If every player was consistent, this would be a boring game. I love Sehwag's unpredictability. It's what makes him score 219 on one day and 0 the next.
Q: Ganguly – Dravid – Laxman – Tendulkar era is coming to an end and we are looking at a new era led by the likes of Virat Kohli, Cheteshwar Pujara etc. Who according to you are the players to look out for in the near future with their roles?
I don't think there is going to be any player appearing out of thin air. The core group remains Kohli, Pujara, Rohit, Raina, Rahane, Mukund. Sehwag and Gambhir will be around. And Yuvraj too.
Q: If we were to ask you to let us know your dream eleven, who would be in it and why?
Another tough one. I will restrict my Dream XI to players I have watched. Sehwag and Jayasuriya will open. Laxman will bat at No.3. Lara and Mark Waugh at 4 and 5. Carl Hooper at six. Gilchrist will keep. Wasim and Ambrose with the new ball. Shane Bond to back them. And Warne to spin it. The match will be played in Jamaica on a bouncy pitch where the ball comes on to the bat. It will be sunny. There won't be a single cloud in the sky. A gentle breeze will blow across Sabina Park. Tony Cozier and Richie Benaud will be on radio commentary. There will be reggae. And there will be rum.
Q: If you were to assemble a commentary team from Twitter, who would it consist of and why?
I don't know about commentary but I would sure like to see many of these Twitter folk talk about cricket in a pub. The way they argue, there may be blood.
Q: What does Siddhartha do when he is not blogging about cricket? What are your other interests?
I wash dishes. I try and cook. I run long distances. I wander in libraries. I visit museums. And I sleep a lot.
Q: Do you promote your blog? What promotional techniques work best for you and why?
I post links on Twitter and Facebook.
Q: How important is it for the blogger to interact with their readers? Do you respond to all the comments that you receive?
I try and respond. It's important to acknowledge a reader's differing viewpoint and carry the discussion forward. I enjoy sparring with my readers. It helps me get a clearer idea of the issue at hand.
Q: What do you find to be the most gratifying aspect of blogging?
The fact that people read what I write.
Q: How, in general, would you rate the quality of Indian blogs? Share your favourite five blogs.
I don't subscribe to blogs. I read them when I see links posted on Twitter. I find @shenoyn funny. I like @sdayanand's posts. @Alfred_Prufrock too. Chandrahas has a wonderful books blog. @thecricketcouch hosts interesting podcasts.
Q: What is your advice to someone who wants to start a blog?
Don't start it for the sake of starting a blog. Write something if you genuinely feel you have something interesting to say.
Q: Do you earn revenue through your blog? How does one go about it?
I don't.
Q: According to you, what is the future of Blogging?
I have no idea.
Q: Let's conclude off with a few favorites.
Color: Purple
Movie: Thalapathi
TV Show: Mahabharat
Book: Swami and Friends
Time of Day: Coffee time.
Your Zodiac Sign: Gemini
The umpires call for the drinks to be brought on the blog. 🙂 Hope you enjoyed this session of the interview. Both the sides had a lot of fun and look forward to more exciting action after this short break. 🙂
In the meantime, Connect with Siddhartha: Blog, Twitter, BlogAdda.