Amidst all this dust storm and heavy winds we have a very interesting blogger at your Adda today. His first love was software and technology where he worked for 15 years, ending with a very enjoyable stint with medical electrophysiological diagnostic research and development. Then he thought of a major transformation and Software has since been replaced by food, social media and writing. Presenting to you an interview with the man who dons multiple moustaches, Sid Khullar known for his blog Chef at Large and his company Brands at Large. Let us now explore his world at large. 😛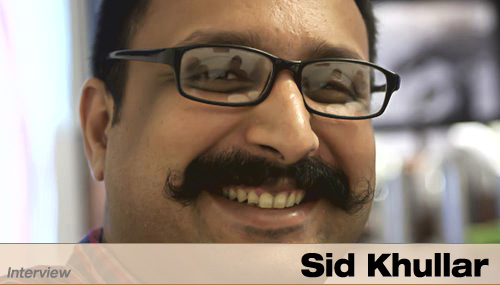 Q: When and why did you start blogging?
Early 2007; to share recipes and other food related experience with other like minded individuals.
Q: What topics do you generally blog about?
Everything food, on Chef at Large.
Q: Do you ever get stuck when writing an entry? What do you do then?
Yes. It usually happens with the verification of facts, or finding the right angle for a story or when making a tough call on a restaurant. I usually end up reading books and talking to people for fresh perspectives.
Q: After 17 years in the technology industry, you shifted to social branding for companies with Brands at Large. Was this shift planned in your mind since a long time? Did Chef at Large affect your professional life in anyway?
No, it wasn't. I found myself bored one day and decided to quit the industry. I did, the next day. Chef at Large was always an after-hours thing, so it didn't affect my professional life.
Q: Tell us more about Brands at Large. Do you see many organisations realising the importance of social media? Are their quick thumb rules, according to you, that the companies who are already using the medium, should keep in mind?
Brands at Large works towards creating brand recall for our clients, who are mostly in the food & beverage and hospitality industry. Yes, most companies are now aware of the importance of being social. Where they do it is a matter of debate. Companies need to listen, as an important first step… most don't.
Q: Chef at Large was born in 2007. How was the journey of your food explorations before that? Share with us some of your food stories of childhood.
I was brought up in a mixed household – Punjabi and Malayali. Our food was a mixture too. Being an Army brat, I was exposed to many different states and their food. While I had started experimenting with cooking at an early age, real cooking didn't start until I was 23 and independent.
Q: Being a food connoisseur, have you come across some misconceptions or notions, regarding a particular culture of food? Share with us the misconceptions and the demystified version of the same.
All of us have misconceptions. Some of the common ones are Koreans surreptitiously serving dog meat, the interchanged use of 'Mughlai' and 'Muslim' cooking, pasta and pizza being the beginning and end of Italian food, all sushi being made with raw fish and hence non-vegetarian, halal being an intentionally cruel process… and so on.
Q: Do you and your wife Indu share the same preferences when it comes to food? Does she also take interest in your food experiences?
She isn't a foodie, but is willing to try new things, without making too much of an effort.
Q: Tell us about your contributors Natasha Ali and Madhulika Dash, and when did they started contributing at Chef at Large. When and why did you feel the need to have contributors?
Natasha Ali is a childhood friend and still a close friend today, while Madhulika and I have met recently but have discovered great chemistry, perhaps due to the common thread of food. Both have started contributing to Chef at Large within the last year. We needed to cover more restaurants in more cities. Natasha is working on Bangalore and Madhulika on Mumbai, while I cover Delhi. Three cities between the three of us.
Q: Chef at Large also consults brands for their food, menu, service, etc. When did Chef at Large branch out to consultancy, and how has the response been till now? What was your plan of action when you wanted to announce this? Tell us one consultancy project which was the most challenging one, that you enjoyed doing the most.
This is a passive exercise of sorts and mostly a hobby. We've helped a few restaurants by designing menus, conducting food and service audits for them and so on. All projects are challenging and fun as each one comes with its own unique set of conditions that must be unravelled, interpreted, understood and then acted upon. The toughest ones are doing menus with restrictions; for example, creating a menu of dishes that must be of a certain culture and therefore taste accordingly, while implementing a restriction that hits at the core of that cuisine – good Jain Chinese for instance, which I feel is an oxymoron.
Q: 110,000+ appetizing food recipes adorn your blog, alongwith 250+ reviews and 350+ columns. Share some experiences of blogging at Chef at Large. What does this blog mean to you? How happy/satisfied do you feel and what does your family and peers say about it? Share with us some memorable moments. 🙂
Chef at Large has had a profound impact on my life. It has helped me discover another area of interest that has become, for all facts and purposes, my professional identity. It has also helped me demystify food, which has further helped in other areas like losing weight. I've lost 13 kilos in the last year… after covering a minimum of 150 restaurants in the same period. Exposure to people and their preferences has resulted in a great deal of spiritual awareness too.
Q: Do you also like to cook your food? Name your favorite 5 dishes and ingredients. Which is your favorite cuisine?
Yes, I do. I don't have any favourite dishes or cuisines unfortunately. Food is food. 🙂
Q: Your Flickr stream tell us how good a photographer you are, and your YouTube reflects some crisp videos. How much time do you get to follow this hobby? What do you do when you are not working?
Good or bad, I'm working all the time, as my hobby and profession are inextricably linked. So, in a manner of speaking, I'm never working or always working; never playing or always so.
Q: Do you promote your blog? What promotional techniques work best for you and why?
Not really, except for content dissemination, for which I use OnlyWire.
Q: How important is it for the blogger to interact with their readers? Do you respond to all the comments that you receive?
Depends on the blogger really. If the point of my blog is to air my views and I really don't want to discuss them, so be it or vice versa. Yes, I try to respond to all constructive comments I receive and a few of the not-so-constructive ones.
Q: What do you find to be the most gratifying aspect of blogging?
Being read.
Q: How, in general, would you rate the quality of Indian blogs? Share your favourite five blogs.
Most Indian blogs are of very poor quality, with insufficient effort being made to improve the quality of content within. There are stellar examples of course, like Finely Chopped and Passionate About Baking among others.
Q: What is your advice to someone who wants to start a blog?
Do it for the right reasons.
Q: Do you earn revenue through your blog? How does one go about it?
Directly, zero. There are many ways of monetization, direct and indirect. Commissioned articles, advertisements, event publicity and so on.
Q: According to you, what is the future of Blogging?
Professional blogs will begin gaining recognition as the *real*, perpetual creators of accurate content, serious inclusion in marketing plans, legal recognition for their reach and potential for libel and defamation, improvement in content and platforms….
Q: Let's conclude off with a few favorites.
Color: Black
Movie: Matrix Part 1
TV Show: Two and a Half Men
Book: As the Crow Flies, Jeffrey Archer
Time of Day: 11:30pm, Weekdays (Star World, Two and a Half Men) 😀
Your Zodiac Sign: Taurus
It was an interview we enjoyed doing  at large. 🙂 We are sure the readers would have enjoyed reading it as well. Do ask your questions and let us know your valuable feedback. This interview will soon make it to the great wall of interviews. Check it out if you haven't already. 🙂