Right from our childhood, in India, we are fortunate enough to try and eat different varieties of food. Be it the Nadeir yakhean or Guwar fali ki saag or Solkadhi or the favorite dosas. But, how many of us share with the world the specialty of every dish in the Indian Cuisine? This is why our interviewee today is very special. He has been chronicling his foodie journey for the past three and half years, and today his blog is a perfect mix of best dishes, best places and best hotels to eat. Let us welcome Kalyan Karmakar at your Adda, in an interview, that will surely make you hungry for more while reading. Ready?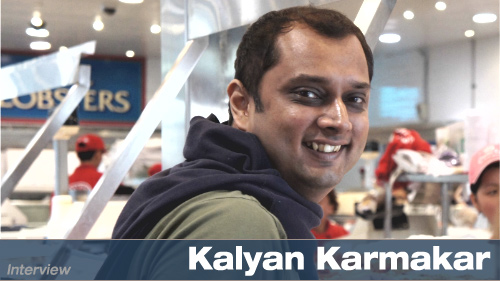 Q: When and why did you start blogging?
A: I started blogging about three and a half years back. Finely Chopped, my first blog, was born out of angst. I was disillusioned by the goody two shoes, food and travel TV shows and news paper reviews one would come across here. Every experience seemed to be the ultimate one… celestial and orgasmic. Often at the same time. Most cases places covered were high end ones. Not where you and I would eat regularly. I felt frustrated by the poor service or the bad food that was served at many of these places. Things that were never mentioned in reviews. So I thought that I'd start a crib blog. A blog which said it as it were.
With time I began to write about things I cooked, people I met, places I travelled to, memories, discoveries…
I guess the goodness of the world of food won over at some point and one can safely say that Finely Chopped today is no longer an angry young blog.
Q: What topics do you generally blog about?
A: I blog on just about anything to do with food. Recipes, restaurants, people, places … I try to share food stories. That's what interests me
Q: Do you ever get stuck when writing an entry? What do you do then?
A: Not really.
I don't have a deadline to meet. Nor an editor to answer to. I write as and when I feel like. So the question of getting stuck doesn't arise.
The only times when I stop mid way through a post are times when I feel physically tired and brain dead or when the battery of the laptop gives in.
Q: The aroma and the steam of freshly cooked food in a nicely presented fashion is surely to get one's mouth water and be pulled towards it. What were the reasons and since when has your love affair with food started? Is it in built in Bengalis? 😛
A: I guess I loved food even as a baby. So no, there was no life changing moment when I fell in love with food.
Yes, Bengalis are reputed to love food. But show me any community that doesn't love food. It's just that we are more vocal and expressive about it. And obsessed too. The Bengali term for this is 'bhojon bilashi'.
Q: How do you manage to change between roles of a food traveller, husband, and a Vice President? Explain us the nature of your work. Which role do you love playing the most?
A: It's just that one wears different hats in different roles. Otherwise I am the same person and don't try to behave differently in different spheres. So it's not that much of a challenge really.
I work at TNS India which is a market research agency. I currently focus on qualitative market research and digital market research. There are learnings from work which flow into my blogging and vice versa.
Q: You mention that you hate recipe books and rarely follow them. Any specific reason for this disinterest? How important is good food photography for a food blogger or writer, according to you?
A: Those are two questions.
Let's look at recipe books first. Well, 'hate' is a strong word but yes, recipes don't turn me on. I like a bit of creativity when it comes to cooking. I like to follow my instincts. I like to try to recreate a taste memory. Or cook up something new. Yes, I would need to look up a recipe if I am trying to re-create a specific dish. But even then I would look at the essence of the dish and interpret it in my way.
Following recipes to the t in my world is the equivalent of mugging up text books in school. Didn't work for me then. Doesn't work for me now. I am genetically not engineered to faithfully follow instructions. I am not deriding those who do so. If everyone starts cooking by their guts then all the great recipes of the world will be lost forever.
Now coming to food photography I would say that it is fairly important in food blogging.
The photos should grab you and make you want to bite into the screen. For me food photos are all about highlighting the food. Props, plating etc are secondary. You should be able to taste the food with your eyes, you should be able to smell it, you should be able to feel it…it should touch all your senses. That can happen only if the photographer gets the essence of the food.
Photos would definitely help your cause unless you have the way of words that a Bourdain has and a reader who has the patience to appreciate it. In which case your words will paint the pictures.
What is far worse than no photos is putting up food photos that makes one want to puke.
Q: What do you have to say about the high costs of dishes in restaurants? Do you feel most of these restaurants are fair in the pricing scenario? Why?
A: I assume that things such as real estate costs and taxes go into this. I would be unable to comment on this.
What gets my goat though is if an expensive place serves food which is stale or doesn't makes sense or is served by waiters who have no idea about where they work and what the place serves.
Contrast this to many cheap, unglamorous, hole in the wall places all over the world…in Mumbai you will find these largely at old Mumbai or South Mumbai. Great food. Consistent quality. Service that is efficient and without frills. Places run by owners who are still passionate about their work.
The difference shows.
Q: You post so frequently on your blog about your food discoveries in Mumbai. How often do you eat out? Are you ever whacked by your wife for ditching her food and dining outside? 😉
A: Well it's difficult to put a figure to how often I eat out. I am quite a different person when I am at home in Mumbai than when I travel. When outside I am like the Duracell Bunny scouring from place to place ticking off eats on my list.
At Mumbai I am lazy and rarely travel just to 'eat' or check out a place. Eating out is either at work or with friends and family…usually to ones favourite places within ones stomping ground.
And no, I am never whacked for eating out. I am in charge of the kitchen at home.
Q: In the process of these food discoveries, how much importance is given to healthy eating? Has it ever affected your health? Suggest some tips for eating out healthily to food lovers.
A: I am the wrong person to ask this. I don't encourage binge eating but would be lying if I say I eat only what the doctor tells me to. My only tip on healthy eating is to look for places which are full and have a high turnover of customers. The food is more likely to be fresh. Eat cooked food. Avoid water you are not sure of. Try to cook and eat at home. There's lot of interesting stuff which can be done without going for the excesses of colour, oil, preservatives that is used outside.
We bought an OTG recently and one can do a lot of easy and oil free grills even on a working day. And avoid buffets. The just lead to overeating of recycled food. Order one or two dishes and savour them.
Hey I could be a dietician after all.
Q: You are a Bengali married to a Parsi. So while you have savoured Bengali food since childhood, we assume you have relished much on Parsi food as well. Share with us some specialties of Parsi food and what you like most about it. Parsis being a diminishing community, how do you feel authentic Parsi food can continue to be available?
A: I think the beauty of Parsi food is that it is unrestrained and that it is a synthesis of influences across borders. And of course the fact that it is unabashedly non vegetarian.
While the Parsis are a diminishing community their love for food beats most.
I don't think we have much to worry about in our generation when it comes to Parsi food. At Mumbai you have a few Irani cafes and Parsi caterers holding out and going strong. Places like Ideal Corner, Yazdani, Cafe Excelsior, Snack Shack, and Dalal Caterers are still run by reasonably young folks by Parsi standards that have quite a few years left in them.
Beyond that it really depends on how mainstream Parsi food can become. It is difficult for a cuisine to survive and flourish when pushed by others.
Look at the Chinese food that we get at India. A favourite bugbear of mine. The junglee maas of Rajasthan, sans the ghee, would perhaps be closer to a Sichuan mutton dish than the Szchezwan paneers of Mumbai. And that's because barring a few places like Ling'sPavilion at Colaba most Chinese restaurants in India are not run by Chinese folks.
Q: "No red blooded Bengali man really digs vegetables so it is always a bit of a challenge for me to find out more about vegetables and play with them". How do you save yourself from the embarrassment of not able to identify one vegetable from the other? 😛 
A: Oh I am quite shameless about it. I have my regular vegetable seller. Lallu's at Pali Market, Bandra.  I often lift up unidentified objects and ask the guys at Lallu's to tell me what it is. At times I ask other customers too. I even ask for cooking tips.
Q: You had written about food blog plagiarism in one of your posts. In another incident you shared how you were not given credit for an article written for a food magazine. According to you, how can bloggers deal with such situations, when their content is copied without giving credits? What steps did you take when you faced it?
A: I would like to break this question into two parts.
First let's look at plagiarism. A friend of mine, well versed in the ways of the net, told me when I started off that once you share something on the net you lose control of it. I've faced plagiarism. Fretted over it. Written to the person who plagiarised. Got friends to do write in too. To no avail.
I think I have sort of made peace with the fact that my stuff could be lifted and I might not even get to know about it. It's sad but one has to live with it just as writers, film makers, singers have to live with piracy. I don't have a problem if people use my content but they have to give source credit. Else it sucks.
Now coming to magazines, etc. who lift content, source ideas from the net and don't give credit. That's simple.  It's criminal. Parasitic.
Q: "I prefer 'eatery' shows to 'cookery' ones", "TV food anchoring in India is abysmal." – You said this in 2009. So we clearly understand your disinterest in food shows. Post 2009 many food shows have crowded the television industry. Highway on My Plate is your favorite of these food shows. Do you follow any other food shows? What is good/bad about them?
A: To me a food show hinges on two things. Great food photography and riveting narratives. Locally produced food shows have horrid food photography and I see very  little improvement there. The difference is the same as that between the Doordarshan cricket coverage of the 80s and Channel 9 at the same time.
I am not talking of the equipment alone. I don't think the camera folks here get food. The angles required. The lighting that works.
Food still photography in India in mainstream media is a lot better. You get to see some great stuff at the BBC Good Food India magazine and the food shots in Ritu Dalmia's new book 'Travelling Diva' are pretty good too.
However when it comes to television most shows have pathetic food camera work. Many food shows have 'crowded' the local TV scene. Most leave me completely cold. Bad food shots. Anchors who act out every word as if they are Madhuri Dixit being choreographed by Saroj Khan. Reality show participants who think they are auditioning for Hindi soaps…and the lighting, the sets…so antiseptic, lifeless and staid.
I like Highway on My Plate because of the enthusiasm of the anchors Rocky and Mayur. They have great chemistry and they do travel around a bit and their reactions seem quite honest. Plus they have gone pretty deep across the country. I think the food photography in the show has improved over time.
I was always a fan of Kunal Vijaykar in The Week That Wasn't, though The Foodie used to disappoint me with its production values. I got to meet Kunal recently and I think I really warmed up to his love for food and I also appreciate the show's efforts to cover things beyond the normal, to get real people in. The Foodie is something I do like to watch these days if I catch it on TV.
Foodistan from NDTV seems to be an interesting concept. It seems a bit slow right now and the anchors seem to be in a 1980s hockey commentary on radio mould. The camera work and lighting primitive once again.  I do hope the Indian chefs in the show don't play to the strength of the Pakistanis by only cooking Punjabi food but spin stuff from across the country.