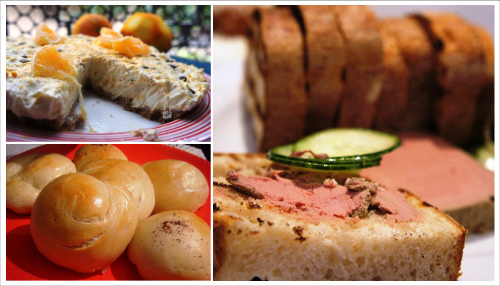 Q: You have another blog which you call your Adda in Mumbai. After spending more than a decade in Mumbai, how would you summarize your experience of being a Kolkatan residing in Mumbai? For our readers, suggest the best 5 places (vegetarian included) to eat in Mumbai. Share with us your latest and unique food discovery.
A: Mumbai is a maddening city. It welcomes you like few other cities do and stresses you out. You will make friends here and yet could feel very lonely. Mumbai gives you a sense of freedom, more so when I first landed here than now though. And, there's sea of course.
Each person's experience of Mumbai is different. Many can't take it and leave after a while. A few like us get addicted. I can't think of any other city in India that I would like to live in. Of course living at Bandra all through my time in Mumbai is key to my love for Mumbai.
My 5 favourite places to eat at Mumbai:
Ling's Pavilion
Candies Bandra
Arsalan/ Bijoli grill
Moshe's Bandra
Thai Pavilion
I love eating at old Mumbai – Fort, Colaba, Bohri Mohalla – Martin's, Yazdani,  Apoorva, Ideal Corner, Cafe Excelsior, Britannia, Swagath, Noor Mohammadi, Olympia, Vallibhai Payawallah, Cafe Military plus Malvani Asvad at Andheri E, Gajalee at Vile Parle, Hangla, Khaane Khaas at Bandra – sorry you can't ask me to stick to five.
Q: You had written a paper in 2010 on how blogs and social media (Facebook, Twitter) can be used to get customer feedback for small businesses, based on your observations at Finely Chopped. It was later selected by the Market Research Society of India. Please share some important points that you observed.
A: Using digital media for consumer insights is one of my passions at work. The MRSI conference was the start of some of the work that one did in this area. I later did a workshop on this at the Thailand Market Research Society at Bangkok. It was fun doing case studies involving vada paos and jalebis with the Thais. This is also a topic which I have spoken about at the Esomar meets at Australia and soon in the one coming up at Mumbai.
Social media is a dynamic field and we are still in the process of learning. Each study that we do is a part of the  learning process.
I am inspired by the way small businesses have used social media to market themselves. Why can't we learn from this when it comes to market research? Using Facebook, Twitter, etc. to reach out to time starved consumers makes market research less intrusive.
Q: Faraway Diaries is your travel blog, where you account your explorations. Which location has been your favorite out of all the places that you've visited? Pen down some tasty food explorations from these travels.
A: Well I have stopped writing at Faraway Diaries and write my travel stories on Finely Chopped now. Food is at the centre of these trips after all.
I love the Orient, the suckling pork and butter pork of KL, the curry mee at Penang…the nonya mussels at Malacca at Malaysia, the Sichuan Mutton at China town at Singapore, the Khou Suey and Naam Yo on the streets of Chiang Mai at Thailand. Turkey is so beautiful and its lovely cheese, almali in its tea shops and its piknik kofte delis…such a wonderfully harmonised country…the very European Switzerland and its raclettes in country fairs and the chocolate truffle shops…and of course the warmth of Australia and its cafes…oysters at the Sydney Fish Market and feasting my eyes on the meats at Melbourne's Vic Market…Guiness pies at Perth
Within India the search for the real Hyderabadi Biryani…discovering Hungarian meat shops & Bangladeshi restaurants at Calcutta…trying to decipher 'Mysore' dosas at Bangalore…tackling the heat of the Andhra cuisine…dissecting Laal Maas at Jaipur and comparing it with Junglee Maas, munching on a Malpua while riding a camel at Pushkar, walking the streets of old Mumbai, a tourist in my own city…it's so tough to choose a favourite.
Q: Name your favorite Chef, and 5 dishes that you love the most.
A: I don't really follow chefs per se but a couple of chefs I have met at Mumbai and quite like is the very talented, famous and yet unassuming Moshe Shek and the very enterprising Chef Chetan of EATC.
My five favourite dishes would be:
Q: Hardcore Kolkattan in Mumbai, Biryani, Hilsa, Murgir Jhol Bhaat, Pork Lover, Food Traveler and so many other foodie adjectives are associated with you. Would you like to add another title of an author or a restaurateur to it? What does Kalyan do when is not blogging or traveling?
A: He tries to earn a living.
Q: Do you promote your blog? What promotional techniques work best for you and why?
A: There are two things which I do when I write a blog post.
I put the link on the Finely Chopped Facebook Page. This is linked to my Twitter handle @finelychopped. I paste the link once again on twitter at another part of the day so that both Western and Eastern time zones are covered. I don't believe in pasting links more often as that gets irritating for others in my opinion. Bugs me at least.
In some cases I send the link to people I know who might be interested in the topic. Apart from that I am registered on sites like yours, petit chef, Foodbuzz…so a bit comes from there I guess.
Q: How important is it for the blogger to interact with their readers? Do you respond to all the comments that you receive?
A: The entire premise of blogging and social media over mass media is that the former is interactive, symbiotic. For me the high of blogging is getting reader comments and mails, tweets, facebook comments. I try to respond to each and every comment/query that I get. Twitter is probably where this is the highest.
Q: What do you find to be the most gratifying aspect of blogging?
A: Interaction with readers and the friends I have made through blogging.
Q: How, in general, would you rate the quality of Indian blogs? Share your favourite five blogs.
A: I wish I could surf and read more. I am afraid I do not get to search and discover unread blogs as often as I would like to. Some blogs that I once followed have become fairly inactive now. There are a few blogs that I follow reasonably regularly and look forward to new updates there. There are others that I look up if I am searching for recipes. The rest that I read are a result of searches or shares or people leaving comments. Some that I do look up these days are:
Q: What is your advice to someone who wants to start a blog?
A: Go for it. It's a great ride.
Q: Do you earn revenue through your blog? How does one go about it?
A: I've recently enabled Google Ads but frankly not really earned anything significant
Q: According to you, what is the future of Blogging?
A: Many had predicted the death of blogging with the rise of micro blogging…but I guess like test cricket there would be a space for blogging for some time. Where else does a person get to share their feeling about a topic at length and reach out to so many people. Blogging's a great enabler.
Thank you Kalyan for taking us through this journey. We know many of you have already started looking towards your kitchen and some of you would be scouting for all the Menu Cards. 🙂  We won't take much of your time. 
Connect with Kalyan: Blog, BlogAdda, Twitter