Children are begging. Women are assaulted. Physically challenged are dying slow death. Poor people are getting infected by more diseases in the slums. Girl child is still being killed. Corruption is still rising high. Circumstances are still forcing young girls to sell their bodies. Their screaming out for help is deafening for ears and aching for the heart. We can't sleep peacefully with so much noise around. We have to replace the 'scream for help' with the 'screams of joy and happiness'.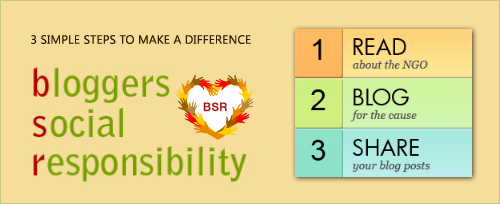 BlogAdda introduced Bloggers Social Responsibility some time back and are now pleased to announce the next step.
The time has come to show responsibility. The time to replace sorrow with smiles. Does it seem that difficult? Definitely not. NGO's are already doing so and are trying to make a difference. But that is not enough. They need our support. Here is how!
The NGO's are here, with their different causes. Now it's your turn to support them. And it's very simple. Support them through your blog.
3 simple steps to make a difference. Read. Blog. Share.
Read about the NGO and its cause.
Blog about the NGO by simply copy-pasting its details and creating a post. Add your own insights too.
Share it with the blogosphere and spread the word.
Three simple steps taken by you can do a lot for the NGO. You can spread awareness about the various social causes through these NGO's. As a blogger, you have the power of words and reach. With your words, you can influence many and provoke a thought. Use your power the wise way by invoking a feeling of awakening among the citizens of India.
Support the NGO's by visiting this link and blog now!
If you are a NGO or an organisation working for social good, use this form to submit details to us and participate in this program.