The Indian Bloggers have written some lovely entries for Stages of Love contest. We loved reading the different stories and experiences that you shared with us. It is judgement time now! To be loved in your life is one of the greatest support you can have. Everyone who shared their love journey with us is a winner himself. Preeti Shenoy has judged the contest and has listed the 4  entries which she liked the most. Here is what she had to say.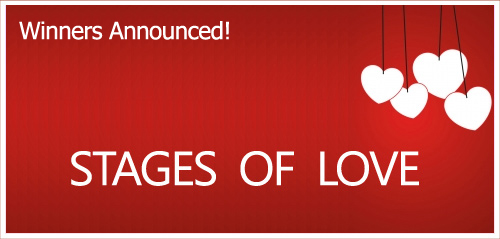 Preeti writes:
It was really nice reading all the entries as 'Love' is a subject that is always heart-warming to read about. All the entries were indeed well written and I don't think anyone can truly 'judge' them and say that one is better than the other. However, 3 entries had to be picked. I could not restrain myself to 3 and have chosen 4.
What I looked for was a story that tugged at my heart-strings, that made me feel the emotions that the writer was trying to convey, that took me along, that submerged me completely and made me want to read it again and again. I did pay attention to grammar and proper writing too (after all this is a writing contest as well).
Here is my list of 'winners'.
The Lost Love by Jolly Ghuman: This post truly touched me. The writer has managed to convey the depth of a powerful emotion wonderfully. He does not have all the answers and yet he strives to understand.
Immortalized by D2: This was a story that made me go 'awwwwww'. The writer has great clarity of expression. There were no unnecessary meanderings or long winded explanations that distracted. The writer managed to say it like it is and it made me eager to read more.
Clouds of Love by இனிய மலர்: This post is so well expressed. It truly took me along and long made me feel surrounded by the purity love. Beautifully written.
HOW I MET MY VALENTINE! by  Sharad Kumar: After I read this poem, I did something that I rarely do. I went back and read it again and then once more! What I really liked was that there was a story told, which bordered between fantasy and reality. A great use of imagination here and nicely expressed sentiments.
A thank you to all who took part in this contest and a thank you to BlogAdda for hosting it.
A Big Thank You to all the Indian Bloggers who participated in the contest and a special thank you to Preeti Shenoy for taking the time out and judging this one. The winners will be informed individually through mail. 🙂