Update: The selected stories of The Chicken Soup for the Indian Soul – Miracle Stories have now been announced. Scroll down to the botttom of the post to know who the deserving ones are.
We received an overwhelming response for Chicken Soup for the Soul and thoroughly enjoyed reading your miracle stories. It was astonishing to see how miracle occurs in our lives. But we are not done yet. We now want to explore the world of science; the world of Indian Doctors.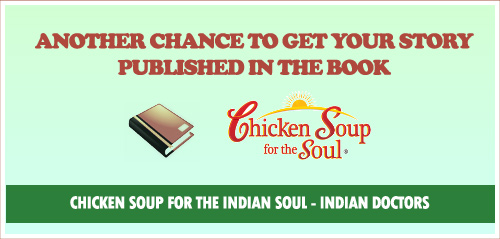 Here is a chance to be published in Chicken Soup for the Indian Soul with your story or experience with Indian doctors. The series has been publishing real stories for fifteen years, bringing hope, courage, inspiration and love to millions of people around the world. The book has carried many different life inspiring themes and the latest one in the works is Chicken soup for the Indian soul – Indian Doctors edited by Raksha Bharadia.
Want to know how you can write for them once again? Read ahead!
Still in some places of India, doctors are considered second after God. People experience many emotions as a patient or as a doctor. We invite you to share such emotions, fulfilled/unfulfilled expectations, observations, perspectives, etc. with us. You can be a doctor yourself writing about your noted experiences within the industry or with patients. You could be a patient, a relative of a patient, an observer, doctor, etc. to write down a story.
Excited? Want to know the recipe for the perfect Chicken Soup? Read below!
Chicken Soup for the Soul® stories are personal and often filled with emotion and drama. Chicken Soup stories have a beginning, middle and an ending that often closes with a punch, creating emotion rather than simply talking about it. A good story covers the range of human emotions.
Do read the guidelines before you start writing:
Tell an exciting, sad or funny story about something that has happened to you or someone you know. Make sure that you introduce the character(s).
Tell your story in a way that will make the reader cry, laugh or get goose bumps. Do express how you feel about it.
The story should start with action; it should include a problem, issue or a situation. It should end in a result, such as a lesson learned, a positive change or pay-off.
Do you have many experiences with Indian Doctors? Then share with us all! You are also allowed to send multiple entries too!
You can write on the following chapters/themes:
Saving lives
Remembering the hypocratic oath
Bringing new lives into the world
Bonding with patients
Great expectations
Learning experiences
Miracles do happen
Funny tales
Medical college days
Dealing with tragedies
Generosity
Stressbusters
Matter of life and death
Keeping hope alive
Share with us that story and if it gets selected, then it will find a place in Chicken Soup for Indian Soul: Indian Doctors. You will also get a chance to share the space with other potential writers.
If you are going to share your story on your blog, please include a line 'Get your story published in The Chicken Soup for the Indian Soul – Indian Doctors at BlogAdda

'

with a linkback to this post.
If you just want to write a story, you can send it over to us at contact@blogadda.com with subject line 'My Story for Chicken Soup for the Indian Soul – Indian Doctors'.
What happens if my story gets selected?
If you are selected, then you receive Rs. 1000 & also two copies of the book. The story will have your credits and the book will also carry 2-4 lines of your profile!
Your story should be within 300-1200 words. The editor reserves the right to edit the story, making it suitable for publication by taking care not to alter the essence of the story. The copyright of the story belongs to you.
The last day for submissions is March 10, 2011 by 11:59 pm IST. So quickly send in your best write up and share your story! This could be your chance.
The results about the entries selected for Chicken Soup for the Soul – Miracle Stories will be announced on Saturday February 26, 2011.
Now, it is time to announce the selected stories for the 'The Chicken Soup for the Indian Soul – Miracle Stories'. They are:
Just a Call Away – Varsha
Sitting By the Canal Side – Saikat
Unexpected – Samir
The Sun Shines On – Irene Jena
A Touch of a Thousand Words – Suranga Date