We have an exciting news to share with you. BlogAdda.com, India's largest online community of bloggers, has entered into a partnership with Encyclopaedia Britannica, a global leader in learning and knowledge products & one of the most trusted sources of information in the world. Under this collaboration, Indian bloggers associated with BlogAdda will be featured on the prestigious official blog of Britannica. This arrangement will give all of you a big platform, wider reach, more readers and provide Britannica with a broader range of perspectives from India.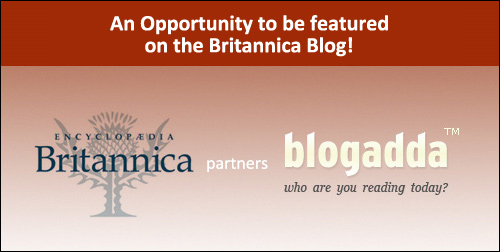 This is an excellent opportunity for Indian bloggers to share the platform with the current contributors to the Britannica Blog, who include prominent writers, scholars, artists and photographers. Both organizations believe it will give rise to a stimulating exchange of perceptions, ideas and visions.
On the partnership, Nirav Sanghavi, Founder & CEO of BlogAdda, said "BlogAdda's goal is to create a prominent space for Indian bloggers in the global blogosphere & showcase the writings to a larger audience. I personally have used and liked learning products by Britannica and am glad that our members will now have an opportunity to contribute on their blog. We have constantly tried to create a conducive environment for encouraging & discovering newer writing talent and the bloggers have always responded positively. We will continue to bring in newer ways which will benefit the bloggers in every way possible."
"Our relationship with BlogAdda will add a new dimension of richness to the content of the Britannica Blog," said Michael Levy, executive editor at Encyclopaedia Britannica. "We strive to be smart, lively, topical and international in perspective. BlogAdda's members are all that, and we're looking forward to welcoming them to our site."
Currently, we are inviting bloggers to write on these topics:
1] Indian Geography/Places: The posts should be like an insiders guide to a particular city, state or even a country as a whole.
2] Cuisine: Inform your readers about the origin behind a particular kind of food, ingredient, its components, availability or talk about regional cuisines by going beyond giving a recipe!
3] Bollywood: Get inside the actual trade and tell us about the actors, their journey, achievements, pioneers of the industry & more.
4] Culture: Pen down about the culture of India or write about the tradition which you know about. The posts could also be about art, theatre or travel. If you have traveled to a place then write down about the place and/or experiences.
5] Indian History: Explore and write an inspiring story from our history of India. It can be about our revolutionaries, revolutions, leaders or similar. You can also write something which happened post-independence. Choose your best arena and write about it.
6] Foreign Affairs: Analytical research based articles on policies and foreign affairs.
Want to know how you can get featured? Read ahead:
You have to be a member of BlogAdda.
If you are interested to contribute and get featured on Britannica blog, click here to share your details.
You are allowed to submit your old blog post or already printed/published article, if that is relevant.
Make the most of this remarkable opportunity and get read by a larger audience.
Bloggers will be chosen based on their writing skills. The selected bloggers will be able to contribute at Britannica, subject to the editorial guidelines.