Do you have a story to share? A story of miracle that happened to you or someone else. Probably you might have shared with your friends but they impugned your sense. Here is a chance for you to share it to the world!
Now, you can write for Chicken Soup for Indian Soul and get your story of miracle published. The series has been publishing real stories for fifteen years, bringing hope, courage, inspiration and love to millions of people around the world. The book has carried many different life inspiring themes and the latest one in the works is Chicken soup for the Indian soul – A book of miracles edited by Raksha Bharadia.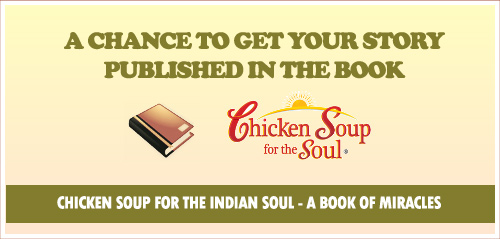 Excited to prove your writing skills? Read ahead!
Many a times, it might have happened that a situation occurred in your life and you were unable to justify it with valid reasoning. It was rather a situation where you felt some sort of energy, a supporting soul or an unexplainable miracle. You don't know how that miracle happened. Or probably you believe that there was some unseen power to do so. People might not have believed it but we are here to listen to those stories and publish it! 😀
Share with us that story and if it gets selected, then it will find its place in Chicken Soup for Indian Soul: Book of Miracles. You will also get a chance to share the space with other potential writers. The story could be about/involving your parents, siblings, friends, relatives, etc. as well.
If you are going to share your story on your blog, please include a line 'Get your story published in The Chicken Soup for the Indian Soul – A book of Miracles at BlogAdda' with a linkback to this post.
If you just want to write a story. You can send it over to us at contact@blogadda.com with subject line 'My Story for Chicken Soup for the Soul'.
Have you already started thinking about your story? Wait! If you have written one already or it has been published somewhere earlier, you are still eligible.
We know your brain wheels have already started churning. But hold your horses! 
What happens if my story gets selected?
If you are selected, then you receive Rs. 1000 & also two copies of the book. The story will have your credits and the book will also carry 2-4 lines of your profile! 😀
Your story should be within 300-1200 words. The editor reserves the right to edit the story, making it suitable for publication by taking care not to alter the essence of the story. The copyright of the story belongs to you.
Benefit from this excellent opportunity at your desktop and send in your entries now! The last day for submissions is January 31, 2011 by 11:59 pm IST. So quickly send in your best write up and share your story! This could be your chance. 🙂