Her first part was inspirational to many. Many loved to see the face behind her blog. Did you know before what 'Tikuli' means? That was just a part. 🙂 We have lots more. We present to you the second part of this awesome interview where she speaks about her life at 40, her favorite Indian Blogs and more. Read on…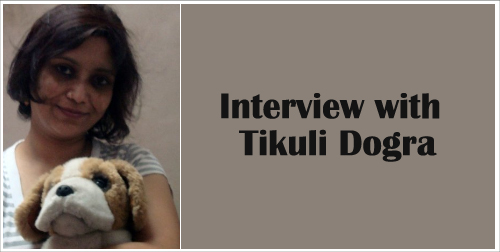 Q: 'Life at Forty Rocks'! What is it about the forties that so many people enjoy? Traditional wisdom says that a person mellows down with age – and obviously has so much to share then. What are the things you enjoy doing in the forties? Which decade of your life would you want to re-live again?
I don't know about people but personally I feel that it is the time we finally get to look within and discover ourselves at leisure that makes it special. Apart from the change that comes over in attitude towards like I guess this stage of life is crucial for living it up and rediscovering oneself before the body takes over the spirit and one is unable to pursue many things because of physical restrictions like health etc.
A friend once wrote in my Orkut testimonial, "Tiku was a pinafore grape then and now she is a matured vintage wine. Amazing texture, aroma, flavor and taste for life." :p
This somehow explains the pleasure of turning forty.. lol
I am free of many responsibilities and actually have time for myself. To do things I wanted to but which I had to put aside to make place for more pressing matters. I love to spend my time listening to music, meeting friends, writing, reading and most of all I enjoy the company of my teenage children who help me retain that youthfulness from within. In last few years I certainly have learned to "live" and understand life. I am still a kid at heart but I have matured from inside. Somewhere deep down I think have got the grip on myself which was visibly lacking before.
I enjoy all stages of life and take every moment of life as a new opportunity to bloom so I don't think I would like to re-live any stage.
Q: You blog on many issues quite openly. Have you faced any criticism from your near and dear ones on the views you express? If yes, how did you handle it?
A: Well my near and dear ones hardly read my blog LOL but those who do always appreciate and support me for writing boldly about certain issues so openly. I do not write to please people so obviously those who resent my writing always have something to say even about being a blogger. It is the mindset people have.
My in laws (including my husband at times) have a strong dislike for what I do. For them what does not pay is useless activity and writing so openly about some issues does seem to threaten their own beliefs and deeds somewhere so I do get a very negative response at times. I used to do a lot of explaining before but then I felt that I am not abiding by what I am writing. Why a need to explain? It is my right to express freely on what I feel and so I do.
The good thing is I feel that it shakes their consciousness somewhere and hence the reaction. That means my writing has hit them somewhere and that's what matters.
I have stopped being answerable to people long ago. What I write I believe in it and can argue my point with conviction.
Q: You were born in an enlightened free thinking family with a degree in English Literature and a diploma in Spanish language.
Why a diploma in Spanish Language? Any typical Spanish connection which we don't know about? 🙂
Did the responsibilities that comes with marriage allow you to continue what you wanted to do? What prompted you to rediscover your passion for writing again?
A::p ummmm well, The Spanish Connection hehehhe do you really want to know 😉
My main reason for choosing Spanish was my love for Latin American literature, music and culture. I wanted to understand their world in their language.
The other reason was career. I wanted to learn a foreign language because my desire was to go in for travel and tourism or take up interpretation and translation as a career along with journalism.
Spanish was in demand and as I longed to travel to Latin America, it seemed the right thing to it.
Unfortunately nothing actually worked. Though I topped in the language and even got an offer for a scholarship I was unable to pursue it for just one reason – I was not courageous enough to say "I want to pursue my dreams at all cost". I gave in, resigned to the fact that maybe after some years when I am settled in my marriage I will live my dream but it never happened.
I gave up too much including my identity. I began to feel suffocated, like a caged bird, and desperately wanted to break free but somehow kept getting tangled in the web I had woven around me.
Social networking made me realize what I had lost and slowly I began to find courage to stand for myself. Friends helped and motivated. There was a sudden outburst at "my getting wings" "par lag gaye hain iske" was what the in laws would say but my parents, friends, my Godfather and most of all my children stood by me. They gave me the strength to redefine my life and so I began to write again. hesitant at first but not ready to give up.
I do not have much contact with the Spanish language now but I may just give it another shot one of these days.
Q: Do you promote your blog? What promotional techniques work best for you and why?
A: I am not very savvy about these things but yes when friends suggest some promotional sites I do give them a try. I usually put share my blogs on Blogadda, twitter, facebook, google reader etc.
I think the best way to share your work is to interact with other bloggers. This works best for me. one gets a wide readership if one forms that chain of regular interaction.
For me it is not exactly promotional techniques it is sharing and learning.
Q: How important is it for the blogger to interact with their readers? Do you respond to all the comments that you receive?
A: I think interaction with the readers is very essential. The comments are the heart prints of those who have given a precious part of their time in reading your work and It is important to reciprocate.

I always tell my readers to do a honest critique and leave their views because it helps me improve as a writer. I usually reply to all the comments if not immediately then sometime later. Many a times if I feel that some comments can be replied together I post one reply to all. It depends upon the content.
Q: How, in general, would you rate the quality of Indian blogs? Share your favourite five blogs.
A: I do not rate anyone. I find that each blog is unique and there is a diversity of subjects, opinions and a wealth of learning. I always find something to treasure in each blog I read.
Five favorite blogs are a difficult pick . As I said I like something in every blog but still the ones which I inspired me are:
Q: What is your advice to someone who wants to start a blog?
A: Be open and receptive to criticism, advice, suggestions and learning is all I would like to say.
Q: Do you earn revenue through your blog? How does one go about it?
A: Sigh! I wish I knew how .. 😀 but seriously I do not blog to earn. There are content writing and freelancing sites to earn.
I write for my pleasure not for money.
Q: Let's conclude off with a few favorites.
Color: Black, Blue , Maroon
Movie: Astitva and Behind Enemy Lines
TV Show: I am not fond of TV but I like Nat Geo shows
Book: This very difficult to reply. I love to read and naming just one book as a favorite will be unfair.
Time of Day: Night time. I share a special bond with the myterious night. My senses awake when the world sleeps. I love the night sky and the sounds that come to me in the stillness of the night. It is a spiritual experience and the best time to connect with oneself.
I feel I am more creative at night so always keep a pencil and notepad near my pillow just in case :)….
Your Zodiac Sign: Libra
Thank you Tikuli for this inspirational interview. We are glad to know more about the 'Cyber Mom' and your wish to know more about Latin America among many other things. Readers, we are sure you would have been inspired by this interview. Do let us and Tikuli know your views, comments and feedback.