'Indian Media', when we thought of this contest, we wanted to know what the Indian Bloggers think about the Indian Media. We wanted to hear the voice of the Indian blogosphere. We think we have enabled many Indian bloggers to raise their voice and gave them a reason to vent out their feelings. This is what we strive for. Since this is a contest, we need to pick up the best entries and we approached Offstumped who readily agreed. Without wasting much time, we hand over the post to Offstumped.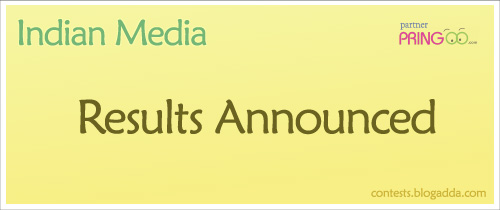 Offstumped writes:
I must say judging this contest was unlike any others given the informal nature of the medium of expression. All of the entries were focused on the topic and said what needed to be said. To shortlist 5 from this list was not going to be an easy task. But then as every contest needs to have a winner, had to make some rules along the way. Here are a few criteria that were applied to shortlist the winning five:
Originality.
Creativity.
Depth in perspective – regional, historical, constitutional, legal, international.
Contrarian – challenge conventional wisdom – Look beyond the obvious – attempt to push the envelope asking probing questions.
I must also observe that I was surprised that some of the heard complaints against the media did not find an echo in any of the entries. No blogger brought up the issue of political bias in favor of any party or bias against any ideology or organization.
Love -All, START!: by Suranga Date: This blog post was clearly the most creative entry in the contest. A very commendable attempt at original fusion combining verse with sports metaphors and an illustration to go with it. The closing stanza also had some profound observations on how the media is really tossing around the liberties it has taken from us and that it is playing to win.
Media: The 4th Wheel Of Indian Democracy? by Rinaya: This blog post stood out for its attempt at offering both a historical perspective as well as a constitutional perspective. It also stood out for making a reasonable argument. Overall a commendable effort in looking at both sides of the argument.
Is Indian Media misusing its freedom? by Guruprasad: This entry stood out for making a very pertinent point missed by almost all other entries – on Media Ownership and Corporate Governance. It also stood out for offering a regional perspective on the vernacular media.
Give me some sunshine! by Sadiya Merchant: This entry stands out for being bold and unapologetically contrarian in its defence of why the media is the way it is. It is refreshingly candid on where the cosmo urban Young Indian's priorities lie.
Is Indian Media – Misusing its freedom? by UB: While being narrowly focused on a personal cause, this entry stands out for it's creativity. Employing a technique that instantly grabs your attention, the blogger makes the point succintly and effectively.
The Offstumped blogging saga started in 2004 as a reaction to perceived media bias after the then Lok Sabha elections. The blog has since drifted from platform to platform while being associated with INI for a couple of years and engaging in a Community portal experiment during 2009-2010. Offstumped's current focus is on creating a new age media platform as a vehicle to challenge the preponderance of Left Liberal views in news media reporting, analysis and informed opinion. The blogger remains faceless and nameless to continue with the belief that it is about the Idea and not about the Individual.
Thank you Offstumped for taking the time out to judge this one and congratulations to all the winners. Keep writing and keep winning at http://contests.blogadda.com. 🙂