With freedom comes responsibility. Freedom of the Press was one of the constitutional guarantees persistently demanded by India's freedom fighters during British colonial rule. The Media in India enjoys a great amount of freedom and seems flourishing. Do you think, the Indian Media in the current times, is misusing their freedom? Have they strayed their path from responsible journalism? It is time to know what you think of the Indian Media in the current times.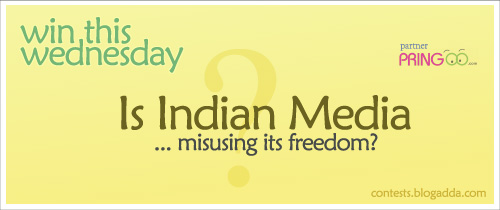 BlogAdda, in partnership with PringOO, is proud to announce this week's contest called 'Is Indian Media – Misusing its Freedom?'
What do you think about Indian Media and the freedom that it enjoys? Is the media using it responsibly? Share with us instances or stories where you think Indian Media have misused their freedom and also let us know how Indian media can use their freedom in a more constructive way bringing a positive impact on the society.
Choose an existing item from Pringoo.com or create your own design. Incorporate that in your blogpost and if that is not possible, linkback to your product of choice on Pringoo.
Add a Link in your blog post, mentioning this BlogAdda contest announcement AND leave a comment here (stating the link to your post), so we know for sure, that you are participating. This is important.
In case of any discrepancies, the decision of the judge(s) will be final.
And here's the most interesting part, we have UPPED the ante for this contest and now the TOP FIVE winning entries can choose personalized goodies (T-Shirt/Mug) from Pringoo.com. We also will have a very special judge for this one!
The contest runs an entire week, starting Wednesday Jul 14, '10 and ends on Tuesday, Jul 20, '10, midnight IST. Hurry Up!
Results will be announced on the BlogAdda website by Friday, Jul 23, '10. So, what are you waiting for? Write down your thoughts now and share the link with us!