Update: If you have come clicking on the link in the newsletter, click here for the winners of 'My First Crush' contest. Apologies for the inconvenience. Trust you enjoy reading the entries.
Conserve. Recycle. Discover – When we thought of this contest, we wanted to do something for the environment by which we could make a real difference. We wanted ideas from the bloggers and also wanted to know how they are making a difference. As this is a contest, we have to pick the best three and we left it to Satish and Ranjeet of 'The Sapling Project' to do the needful. Guys, this post is all yours. 🙂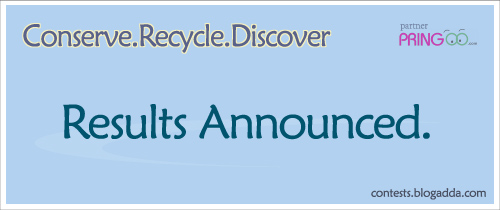 Satish and Ranjeet write:
We have always been big fans of Blogadda for their role in reviving the blogging spirit which seemed to have got a lost a bit thanks to the 140 characters mania called twitter.
Apart from supporting and standing up to many environmental causes, Blogadda has been supportive in promoting our cause the sapling project from Online to Offline and from one city to over 6 cities.
When we were told to judge the Conserve. Recycle. Discover Contest, we were more than happy to be involved with this great idea.
Its great to see a rainbow of ideas shared by the participants and we congratulate every participant for their sincere effort and sharing their ideas.
We have kept judging procedure simple by grading them based on innovation, practicality in adoption of the idea, Concern for Environment & Ecology.
We at The Sapling Project, will surely love to help and foster the contest winner's ideas into reality by sharing it with all our friends and participants.

Some of the best Posts:
Conserving planet earth = conserving humanity

by Jaky Astik: We really like the way he has put up his post about conserving and recycling resources. The emphasis is on how common people can work towards conserving resources. One of the best example he has given is about an old person watering plants on the roadside. He is also walking the talk by planting trees, using solar panels. We understand that solar panels are not that affordable as of now. But societies can chip in funds together to work on aspects like solar panels/rain water harvesting and so. We like this concept of creatively recycling things is make something permanent out of it.

Many species. One Planet. One Future

by Nandana S Nallapu: We again liked the idea of putting onus on to the individuals. We strongly believe that 'climate change is man-made' and nandana clearly puts the same perspective ahead. Nandana's post was one of the few blogs who mentioned about Car pooling, travelling by public transport. Though its common sense and trivial we do not try to follow this. We liked the detailed description and procedure about using Bio-degradable waste to convert into fertilisers.

Thank God Men Can-not fly

by Anshul Pandey: Loved the simplicity of this post. Anshul has actually explained how he is involved in initiating anti-poaching. We really liked the way he has adopted "Reduce, Reuse and Recycle" concept in day to day things. Many of the things he mentioned on his post are very practical and can be easily followed by all people.
One thing which we like to note here is that we have not found many post with "Discover" aspect in it. However there are few ideas which are worth mentioning in this category.
We loved the simple idea of using cycle Dynamo to charge mobile batteries. This particular idea was posted by Nivedhita at World Environment Day post. We really loved the way she is interacting with her readers.
Dudo in his blog post has shown a super CD cover made up of wasted box and paper. Not taking ATM receipts is a great reminder from him.
We really liked the way Lopa has used images in her blog post. She also mentioned about Batteries which can be charged using USB ports.
In another interesting post Survivor_ mentions about using Freecycle for recycling items in working conditions. He has got interesting views on E-Waste disposal.
We really wish we could choose all entries as winners. The core idea is to create awareness between people about caring, conserving environment and recycling whatever we can for ecological purpose. And each blog post is exactly doing that and spreading the word amongst the readers.
What we have learned from this contest is immense and we would be following your ideas in our daily routine and also promoting them.
Satish Vijay Kumar and Ranjeet Walunj are the co-founders of The Sapling Project, An initiative that works towards planting more trees and making our cities greener and have distributed more than 6000 saplings all over India.
Our basic motto is to help provide good environment for next generations.
Satish works for 2ergo, a leading global provider of mobile technology products and services for mobile marketing, CRM, entertainment and media and blogs at Bombaylives, You can follow him on twitter at @bombaylives
Ranjeet works for Admagnet one of the leading Ad networks in India and blogs at www.mayavi.info, You can follow him on twitter at @ranjeet_walunj