'A picture speaks thousand words' is what we said and our awesome addaites proved it. We received some amazing photos for this contest and each one was a winner in its own way. We enjoyed every photo and am sure everyone of you did as well. It is now time to welcome our judge, Ashu Mittal and let her take over this post.
Ashu Mittal works as a Project Lead at Adobe, Noida and loves photography. Do check her Flickr stream, read her 5 tips for photography and follow her on Twitter. Ashu, the post is all yours now. 🙂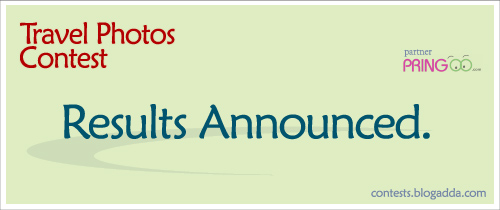 Ashu writes:
I have been following the string of interesting contests BlogAdda has held in the past few weeks. And though I have not actively participated in any, I have silently savoured the heart-touching tributes on Mother's day, the nail-biting suspense of the Whodunnit mystery and everything else in between.
Needless to say, when their latest travel photo contest was announced, I was pretty excited about it. Little did I know that BlogAdda team would extend me the kind offer to judge this contest (and replace all my excitement with nervousness pronto!). On a serious note, I would like to thank BlogAdda for giving me this opportunity to look at so many incredible blog entries on a subject close to my heart. It was a real pleasure taking a peek into the thriving world of bloggers and the response to this contest was definitely beyond my expectations, making it exceedingly tough to pick just three winners.
And before I get to the winners, let me make a few comments about how I sifted through the photos –
It was a "travel photo" contest and that is essentially the spirit I judged it with. I was not looking for a person's control over aperture or shutter speed or even his/her post-processing expertise but whether the photos embodied the essence of travel. Moreover, if the photos did not speak to me or did not do justice to the supporting description, however impressive that in isolation was, the entry did not make the cut. Having said that, I did read all the posts and the ones that were ultimately picked, hit the sweet spot between photos and narrative coming together elegantly, to make the post a complete package.
Next, I paid close attention to the selection of photos and if there was enough diversity in the photos that were showcased. It was obviously the trickiest part of the contest as a lot of you have also mentioned in your posts about the struggle in selecting the "best" five from your collection. Personally, I liked the ones who went with their instincts about the "right" photo and didn't worry about whether a photo "fitted the bill".
I have also tried to gauge if the photographs brought out the individuality of the person behind the camera. There were many people who shot photos of exotic locations but the photo that was clicked was no different from what hundreds of other tourists would have clicked before them. You can click an ordinary picture of an extraordinary scene or you can click an extraordinary picture of an ordinary scene. Frankly, I leaned towards the photos that fell in the second group! 🙂
Now, without further ado, here are the winning entries in no particular order:
My Punching Bag by Neha –Neha's pictures were so delightfully refreshing that I ended up clicking on them to "view in large" not once but several times. Go ahead, do it, and enjoy the treat to the sore eyes.
Travel, it changes you by Tarun Chandel – Always beautiful and often surreal, Tarun's photos accompanied by subtle and pithy accounts about his experiences just transported me to the places shot in the photos. He truly lives by his words, "Travel, it changes you!" and how!
It's all about Photos while you Travel! by Lopa – Lopa's photos were very interesting and all about "moments" and "thoughts" charmingly translated into pictures. Each of her pictures really tells a story of its own.
There were few others I'd like to mention that came really really really really really close and were indeed fabulous posts in their own right:
Apart from these, I'd beg and plead you all to view the wonderful Golden Gate Bridge photo from Ashwini's post here and Richa's ethereal click of the Lake Isabella from her blog entry here.
On a parting note, I'd like to say that going through the 75+ entries that were submitted seemed like a daunting task at first. But when I started going through the posts, I was entirely immersed in the enthusiasm that each blogger showed in her/his entry and finished reading all of them in one go. Whether it was an endearing post by a 12 year old boy or an inverted pic of Victoria Memorial in this post to achieve the "perfect" reflection (hey, everything's fair in love and BlogAdda contest!) – there was never a dull moment! So, huge thanks to all who participated and congratulations to the winners!
Ashu, thank you once again for accepting our invitation and for taking time out to read so many entries. Thank you all the participants for an overwhelming response. Here is another chance to participate and contribute your ideas for the environment on the occasion of World Environment Day tomorrow. The theme for the current contest is Conserve. Recycle. Discover