'My mother is a poem, I'll never be able to write – though everything I write, is a poem to my mother', quotes Sharon Doubiago. Writing a tribute for the Mother is probably one of the best ways to acknowledge one's feelings. We would love to see their faces when each of them read the tributes which their children have written for them. Seeing such an overwhelming response, we have increased the number of winners to 5! Thank you everyone for your support.
It is time now to announce the top five tributes to mum judged by Surekha Pillai. Surekha Pillai is a Delhi-based communications consultant, who readily agreed to be the judge for this contest. We appreciate her for taking out time to read so many entries. We recommend to follow her on Twitter to have interesting conversations. Here is what she has to say about the posts, contest and how she chose the winners.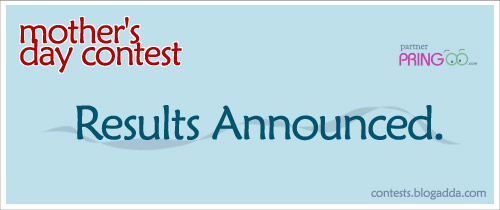 Surekha Pillai writes:
A few months back, an entry with grammatical errors made it to Blog Adda's 'Saturday Spicy Picks'. I remember wondering then what it was doing alongside the posts of some of the superstars of the blogosphere. When I went back to the post, I realised it was written by a spirited young girl with potential who was obviously in love with writing. That revelation made me appreciate the Blog Adda philosophy of providing a platform of equal opportunity to all (perhaps this was also the reason why they picked me as the judge for this contest). At a time when it is easy to get tempted by the 140-route shortcut to 'fame', it takes a certain willpower and love of writing to keep one's blogging aspirations going. Blog Adda help keep this interest alive by encouraging blogging among all without restricting the accolades to just a handful. I find that admirable.
It is this philosophy I have applied while selecting what I thought were the best entries. I also believe the topic calls for such 'leniency'. There is no way to grade one child's love for his mother over other mothers. In keeping with the spirit of the subject, I have also tried not to judge the entries based purely on how well they were articulated. I have kept it simple. I picked those posts that touched me. I selected those posts that I thought talked to me, and had a story to tell. I picked those posts that made me want to meet and know the bloggers' mothers more.
While I have applied no intellectual filter for a subject heavy on emotion, I have not been able to lean towards entries that read like Archies or Hallmark poems, or did not have a unique stamp of the blogger. I have therefore selected entries that leapt at me and also brought in a different perspective.
I am very impressed at the response to the contest. I expected to read a dozen entries or so. But guys at Blog Adda kept bombarding me with more and more links till the final count almost touched a hundred! I truly enjoyed reading every entry. Okay, not very entry, but ninety per cent of them! 🙂 Most of them were heartfelt posts. There were many stories, many memories, many emotions and tributes that befit only a mother.
Another person may have selected other entries. The interesting thing about articles, columns, novels and blogs – words in general – is that there will always be people to love them and … to dislike them. Therefore, instead of seeing this as a judge's results, I request you to see this selection as one reader's choice.
The top five entries (in no particular order) are:
Other noteworthy posts I enjoyed reading include:
Ek Chitthi mere naam….
M & M moments
There were a few outstanding posts that could not be considered as they did not meet the terms and conditions of the contest. I would have also liked to include at least one post from a male blogger in this list. Unfortunately, there weren't many that made the cut.
I would like to end with a special mention of this post from Rang De because of the stellar work they undertake in the area of supporting micro entrepreneurship. Thank you, Blog Adda, for allowing me this mention.
Mother's Day with Borrower Mothers
Our Special Thanks to Surekha for being as enthusiastic as we were with this contest. Every reply from her had the phrase 'Bring it on'. Thanks a lot once again Surekha and this is not the end :). We will trouble you more often. Thanks a lot for the lovely words which gave us a reason to party. 🙂 Congrats winners and don't stop here as the next contest is already here. Do you know who the killer is in our current contest 'Whodunnit?'
All the winners are being sent an email as to how they can get the goodies. If you don't receive an email from us by tonight, do let us know. Once again, all of you are awesome and we enjoyed reading every single entry. We love you all! We look forward for your participation for the mystery fiction contest.