Meetu runs a very popular movie review blog, WOGMA. She first logged on to internet when she wanted to chat with her fiancé since he was in the USA and she was in India. This was in the days of the oh-so-slow dial-up internet connection and when mIRC was the most popular IM tool around! She later married Navin and went on to complete her masters at the University of Wisconsin. Always a fan of movies, she was wondering what next and came up with her blog.
Today, her blog has about 200 reviews and she has been credited amongst the top few ones when it comes to movie reviews. Meetu talks about her blog and the important do's and dont's for a new blogger. Here is Meetu for you…!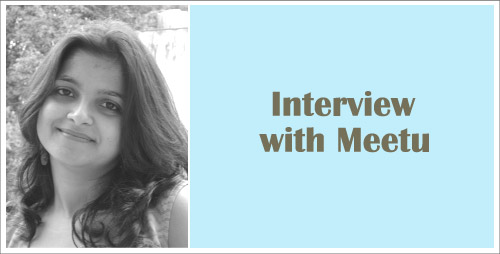 When and why did you start blogging? Was it out of curiosity or something else?
I had been meaning to write reviews for a long time. One fine day in September '06, I just bit the bullet and started reviewing movies as I saw them. I saw a movie every Friday and wrote a review the same day. I had no idea where they'd be published.
I just wanted to watch all the movies possible. Writing reviews and making it my profession gave me that chance. That's where this started from.
What topics do you generally blog about?
Movies, movies, and more movies. 🙂 Well, I do have a couple personal blogs. One features funny/interesting things my kids come up with. The other is just random musings.
Do you ever get stuck when writing an entry? What do you do then?
Oh yeah! All the time! I just take a break from my laptop. Walk around the house/office, munch on something, make chai or something! When I'm back, I have usually overcome my block.
The easy thing for me is that I don't have to think about my topic, the Indian film industry provides me with that. I only have to articulate my opinion.
Which tools/plugins do you use to efficiently manage your blog? Any widgets or tips you would like to share with our readers.
Until recently, I used WordPress. We had our database in Microsoft Access and it was ported to WordPress by a program written by my husband but no widgets as such. Now, we have transferred the entire database to Joomla as that's what WOGMA needs as it grows.
I use SMS Gupshup for my SMS reviews! And my audio reviews are featured on theindicast.com.

What promotional techniques work best for you and why?
Each blogger blogs with a different purpose in mind. Some bloggers are really writing just for their family and others don't want their family to know that they blog at all so they try their best to be anonymous. My aim is to get as many readers as possible. I have tied up with a media company, Mediasphere Communications. Together we are going to work on getting more readers by getting on to social bookmarking sites more regularly, tying up with other movie related sites, etc.
Do you earn revenue through your blog? How does one go about it?
Right now, I earn very little and all of my earnings are from Google Adsense. But we are looking into content syndication and other advertisement as an avenue to earn more revenue. Fingers crossed!
I'd say you should start with Google Adsense and then as your blog gains popularity you get offers from various sources. Then its pretty much up to you, which ones you take depending on your compatibility with the advertiser.
How important is it for the blogger to interact with their readers? Do you respond to all the comments that you receive?
What are you without your readers? Replying to comments which discuss the movie make for great interaction. There were many movies where my opinion might have been against the tide. When readers don't agree, the discussion gets really fascinating!
I don't respond to all comments, but when there's a pointed question for me or when a point is made which would make interesting conversation, I do reply.

How, in general, would you rate the quality of Indian blogs? Share your favourite five blogs.
Of course there are quite a few really good bloggers who I follow very regularly. But at the same time there's a lot of repetition and many who don't work for me. Fave 5 . . . 🙁 how unfair… there are way too many good ones. Anyway, here you go –
What do you find to be the most gratifying aspect of blogging?
Increase in the number of readers. Nothing is more satisfying than seeing your "views per day" graph slope upwards.
What is your advice to someone who wants to start a blog?
Don't copy-paste. Write interesting stuff. Don't copy-paste. Write in a coherent manner. Don't copy and paste. Language has grammar, acknowledge it. Spell check and grammar check have a reason for their existence. Use them. It won't hurt, I promise.
So yours is movie review blog. We are sure many bloggers are opinionated and they write reviews on their personal blogs and they think the reviewers get a lot of freebies. For e.g. a book reviewer gets a book free and a tech guy gets the gadget free. So does Meetu get free movie tickets?
No, Meetu doesn't get free movie tickets. And I don't think she even wants them. Because that could put a question on her objectivity.
It is, of course, flattering to know that people could think someone pays for my opinion but it doesn't feel good to be asked, "How much are you paid for writing a good review or writing a bad review from my opponents?"
Sure, if tomorrow a theater offers to pay for tickets for some kind of a deal, I won't say no 🙂
Do you feel responsible to be impartial when you write a review?
Of course! Impartial is a tricky word here as I'm opinionated and it's my opinion!! It's not impartial as in how general public would like my opinion. How can I judge what the general public thinks? That way I'm not impartial!
But I'm impartial in the sense that I'm a huge fan of Amitabh Bachchan (I'm human you see) but when I watch his movie liking his work or even him, doesn't contribute to enjoying his movie more. I watch it as any other actor's movie for example, John Abraham's movie who's acting I don't like in general. I take it as my responsibility to treat both the movies equally when I walk into the theatre. While walking out, it is my opinion of the movie and not the person. This opinion is what I try to write about.
There are a lot of wonderful films which have a message and which inspire people to think or do you think it is the way the audiences take it!
Well, I don't think every movie should have a message. Movies can be just to tell a story. Plain and simple – nothing else. Movies could be just to experiment with their medium, the sound or visuals or storytelling. Movies, advertently or inadvertently end up documenting the times they were set in and the times they were made in!
Of course, I get agitated when a child artiste is made to do real intense scenes! For example in Phoonk, I mentioned in my review that the little girl would have given so many takes to do that one particular shot in which she was possessed! I mean first of all you are introducing her to the concept of possession and then you are making her do it which is so exhausting. I do take offence when Roadside Romeo has sleazy remarks about a she dog, I mean what are you telling the kids here? It is just not kids there are lot of other things as well. I don't think I'd appreciate a movie on the blast which happened on Nov 26. It's just me, what's the point of glamorizing such events.

You have also done a film appreciation course! So, does film appreciation help in reviewing the movie?
The course doesn't qualify me to review movies. It did make me look at movie from a different point of view. Like I would have never ever appreciated abstract art. I never can make sense out of it. Earlier I'd say, "If I don't understand it how will I like it" but now it's like, "I didn't understand it but it's beautiful!" So that's how it has changed my perspective! And I think I'm like any other blogger writing my opinion. They write their opinion and I write mine! I don't see myself as more or less qualified!
Once, Ram Gopal Varma commented on his blog about your review which eventually got published by the Big B on his blog. What was happening?
Wogma's Sarkar Raj review was the first link in Google for a search on the movie's review. I would think that's why Ram Gopal Varma chanced upon WOGMA's review. My reading of the situation is that technical people were asked to cover the web for the reviews and they made a list and gave it to him. And he went to them, picked the lines which he didn't like and wrote about them. Now, the name Meetu became meetyou.com. Even so, it was a celebrity moment, for WOGMA. Big B read a few lines I wrote!! Just seeing what I have written on his blog…I don't know…was an ecstatic moment…
Meetu, thank you so much for the interview. View Meetu's profile and do visit her blog at WOGMA.