K.C. College is one of the popular colleges in Mumbai. This is one of the colleges in South Mumbai where the students have to go through tough competition to get admission. Even in a college like K.C. where majorly the students are non-Maharashtrians, the festival called 'My मराठी' is held on a huge scale. Both the Marathi and non-Marathi students here have taken the opportunity to expand the Marathi culture in Mumbai. Every year, each and every student works hard to conduct this festival with growing enthusiasm and vigor. Students of K.C College's Marathi Mandal are well renowned in the field of art and entertainment.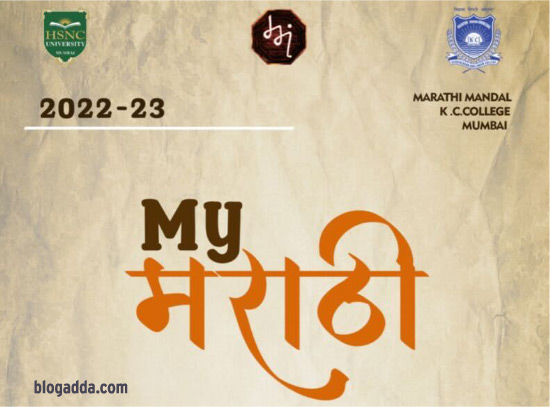 The Marathi Mandal is growing with the constant support of the Principal of K. C College and the current Vice Chancellor of H. S. N. C University Dr. Hemlata Bagla and K. C College's Principal Dr. Tejashree Shanbhag.
This college's Marathi Mandal, which started in 1958 with very few people, has now reached greater heights. The mandal is functioning successfully with the encouragement and enthusiasm of the alumni. My मराठी festival was organized for the first time in 2007. It is the fifth consecutive year of this festival which started again in 2018.
The ongoing festival is entering its fifth year this year. This festival has given opportunities to many students by organizing innovative and artistic competitions every year. In the last five years, many famous artists have graced the festival by visiting it. Piyush Ranade, Mrunamayi Deshpande, Saili Sanjeev, Gayatri Datar, and many more artists have visited this festival. Students have various competitions from fields like literature, fine arts, drama, music, etc. the purpose is to enable the students to present their art which the Marathi Mandal of K.C College has always done.
This college board not only organizes the My मराठी festival but also organizes Ashadhi Ekadashi, Navratri festival, Ganpati, and community service without fail. The purpose of the Mandal is not only limited to the festival but all Marathi festivals so that everyone comes together to celebrate them with joy and affection.
 Every year My मराठी comes in the form of a new theme. This year's theme is 'Retro 2 Metro' and it mainly focuses on the blend of the olden and modern times with a hint of nostalgia. It is said that Change is the only constant and as time passes they adapt to new changes but Nostalgia is a part of life that helps them remember where they came from, what our past was, and how life and surroundings have changed for the sake of betterment. It is important to cherish the past and appreciate the change. The Marathi Mandal of K.C. will be celebrating this wonderful transition from Retro 2 Metro with a spice of love, laughter, and art. Do join in the journey where they explore the Retro life and the metro life by the lens of art, music, and culture.
Members of BlogAdda wanting to attend the fest can write to us at bavity@blogadda.com