In the 21st century, Entrepreneurship and startups are a key driver of innovation, economic growth, and job creation. Entrepreneurship and startups are important for a number of reasons. For one, they drive innovation and economic growth. Many of the world's most successful companies started as startups, including Google, Amazon, and Facebook. Lets hear more about the e-summit Vishwapreneur.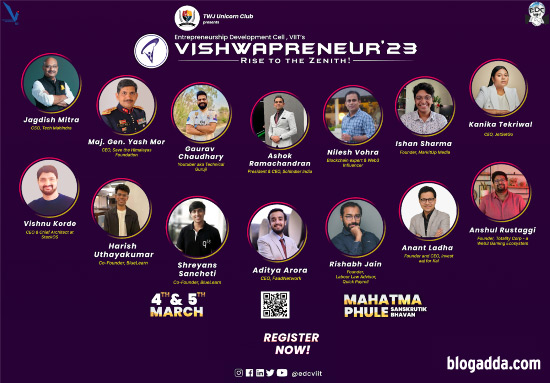 Similarly Entrepreneurship Development Cell of Vishwakarma Institue of Information Technology has the motive to promote, sustain, practice and manifest the spirit of entrepreneurship among individuals by providing them a platform to convert their ideas into successful ventures.
To add more value EDC VIIT organizes the biggest e-summit of Pune i.e Vishwapreneur. Vishwapreneur is a National Level Entrepreneurial Summit showcasing entrepreneurs, creators and innovative minds of our century who had the courage to think out of the box. Vishwapreneur is a platform for budding entrepreneurs to seek motivation & guidance through the experiences of successful business tycoons.
They have been organizing Vishwapreneur for the last 10 years and this year it's the 10th edition. 10 years of experience, guidance, persistence, excellence and efforts are all working together to make this event a huge success. To the one who wants to explore the world and learn something new and unique. To the one who wants to achieve something extraordinary apart from the traditional way,the one who is ready to take a risk and build something of yours, this is the platform for aspiring entrepreneurs like such.
This year they are graced with the presence of guests like CSO of Tech- Mahindra Mr. Jagdish Mitra, Co-founders of Bluelearn community Mr. Shreyans and Harish, Mr. Ishaan Sharma, the youngest and richest women entrepreneur Kanika Tekriwal and the youtuber Gaurav Chaoudary aka Technical Guruji .
It's gonna be a two day event on 4th and 5th of March 2023 in Mahatma Phule Sanskrutik Bhavan Pune, Maharashtra.
They are graced to have many great personalities from every sector of society with them and each and every guest has his/her inspiring life journey, from which everyone learns and might apply them in their life. As it is said When opportunity presents itself, don't be afraid to go after it. Just grab this opportunity for the betterment of yourselves.
Register yourself at vishwapreneur.in

Members of BlogAdda wanting to attend the fest can write to us at bavity@blogadda.com