MICA, Ahmedabad, the premier B-school dedicated to creating leadership in Strategic Marketing and Communication, is set to host its 20th Annual Marketing Management Fest, MICANVAS 2021, from 26th to 28th November 2021.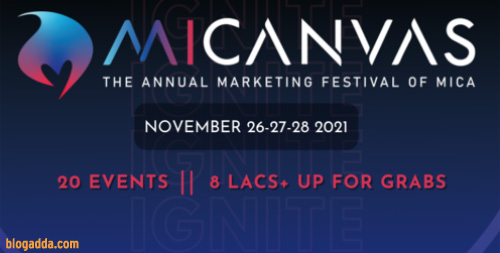 Alma mater to numerous established leaders in the industry, MICA is known for its marketing-focused curriculum, and MICANVAS festival is a true reflection of that. It is MICA's flagship event with an amalgamation of interesting, innovative and challenging events, with a great line-up of renowned international and national artists and speakers. MICANVAS has hosted eminent speakers and artists in the past, from the likes of Prof. Philip Kotler, the father of modern marketing, to the talented Farhan Akhtar.

Last year, they evolved with the changing times to accommodate the new normal with an equally charged up online event, connecting with international speakers worldwide. In 2021 they are gearing up for a bigger, bolder and better version. The events will operate in a hybrid model with online and offline sets of competitions, speaker sessions and artist performances showcasing an abundance of talent and knowledge for all the B School participants around the country.
The team has curated over 18 new formats covering marketing, advertising, and branding holistically through iconic legacy events like Last Manager Standing to Prod-It-Friendly. The events have garnered over 15k+ views and 5k+ registrations on https://bit.ly/3CC4KlR from premier B-Schools such as IIM Ahmedabad, IIM Bangalore, IIM Calcutta, IIM Lucknow, IIM Ranchi, IIM Indore, MDI, SIBM, SCMHRD, IIFT and many more.

This new adaptation is a consequence of their rekindled souls to signify the flame of conquering the world. MICANVAS 2021 is back with its theme of the year as "IGNITE", which more so explains the fire within them to make a fabulous comeback. The logo is also tweaked to represent the flame with the cool colours balancing their minds while they head on to take the new "normal" world of marketing.

Stay tuned to witness a plethora of new opportunities, connections, and spirits getting ignited this year on the 26th, 27th and 28th November.
BlogAdda members interested to attend can email us at bavity@blogadda.com