Friendship is the most wonderful relationship that anyone can have in this world. When we think of true friendship, we think of loyal and honest people, who are always there for you, unconditionally loving, and who can make you roll on the floor and laugh until your stomach hurts. It is also about having a connection and a bond with someone to lean on when things get really hard for you. With Friendship Day around the corner, we need to be reminded of why friendship is so incredibly special.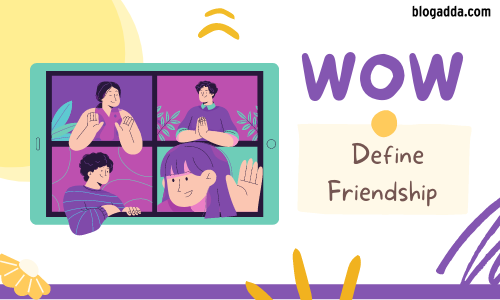 'Friendship is the only cement that will ever hold the world together.' – Woodrow Wilson
We always have friends at different stages of our life who are together with us through all ups and downs of it. Sometimes, we have only one true friend throughout every stage of our life. We make bad friends along the road as well, it's a trial and error process. However, different people may have distinct definitions of and requirements for friendship.
For this week's WOW, we want you to 'Define Friendship' in your own words. What does friendship mean to you? Share with us the craziest experience youĺve ever had with your friends. Write about how your adult friendships are different than friendships you had as a child. If it's still the same, tell us in what ways are they the same. Think about what ways have they influenced you positively or negatively. What do you bring to the table of friendship for others? How long have you been friends with someone? If you would like to share some pictures as well, it would be even better.
Remember to submit your blogpost before Sunday midnight to be eligible as a valid entry and win a chance to display the WOW badge proudly on your blog and social networks.
Kindly add this line in your blogpost, ĹThis post is a part of Write Over the Weekend, an initiative for Indian Bloggers by BlogAdda.ĺ Click on the submit button below and share your WOW entry.
Enjoy your weekend! ­čÖé