Hello Bloggers!

It's been said that the monsoon is a writer's favourite season. The sound of the rain tapping against the windows, the smell of the rain in the air, and cold, gloomy skies is a mood changer agent. Here's our latest WOW prompt to get you writing this weekend. What are some interesting things you do on a rainy day besides writing? We would love to read your thoughts in the comments.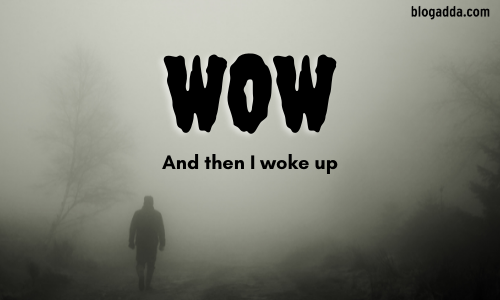 Ever had a dream that felt so real, and then when you wake up, you think 'Oh, it was all just a dream?' It is frustrating when it's a good dream but a relief when it's a horrible dream you can't keep out of your mind. Either way, if you liked the dream, it's something to use as inspiration.
This weekend, for our WOW prompt, we want you to use this line – 'And then I woke up.' You can use this line at the end of your story. You can keep it as short or as long you want and fill it up with stories either about mystery, surprise, thriller, horror, or even happiness and humour. We would love to read how you treat this and describe what's happening before you wake up.
Remember to submit your blogpost before Sunday midnight to be eligible as a valid entry and win a chance to display the WOW badge proudly on your blog and social networks.
Kindly add this line in your blogpost, 'This post is a part of Write Over the Weekend, an initiative for Indian Bloggers by BlogAdda.' Click on the submit button below and share your WOW entry.
This is also the time to use our social media platform power to help each other in these difficult times. Please feel free to tag us on Twitter, Instagram, or Facebook if you or anyone on your list needs help with resources. We will share it on our feed.
Have a great weekend! šŸ™'