Hello dear bloggers!

The first day of April is one of the most light-hearted days of the year. A day filled with pranks, confusion, suspense, and loads of laughter. We hope you had fun yesterday pranking your friends and family members without stepping outside. To keep the fun going on we are here with our new writing prompt.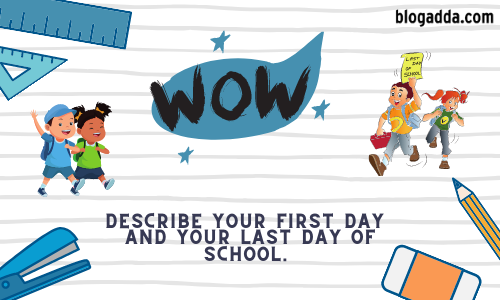 School is the best place to be and you will realise this only after leaving it. The best day of our lives as they were full of friends, laughter, celebrations, and fun. Let us take a trip down to our memory lane.
Do you remember how some kids were obsessed with drawing the pointy S and how it was considered to be cool. When Facebook was not yet introduced, we use to fill up our scrapbooks or slambook with comments and pictures. How can we forget the ice cream cart outside the school waiting for us during hot summer days.

What other memories do you remember? Let us know in the comments section.
This weekend, for WOW, we would love you to 'Describe your first day and your last day of school' If you don't remember your first day, you can still share the story of your last day at school or vice versa. Share your emotions and fun stories about those two days.
Remember to submit your blogpost before Sunday midnight to be eligible as a valid entry and win a chance to display the WOW badge proudly on your blog and social networks.
Kindly add this line in your blogpost, 'This post is a part of Write Over the Weekend, an initiative for Indian Bloggers by BlogAdda.' Click on the submit button below and share your WOW entry.
Have a great weekend! 🙂