Hello bloggers!

Holi is around the corner. As we gear up to celebrate the festival of colours and fun, one might face the dilemma of whether to play or just stay indoors. As the pandemic is still here we should not ignore the safety protocols, try to keep yourself and your surroundings safe. Let's also spend some time this weekend doing what we love – Blogging! We got this covered with an interesting prompt for you to get started.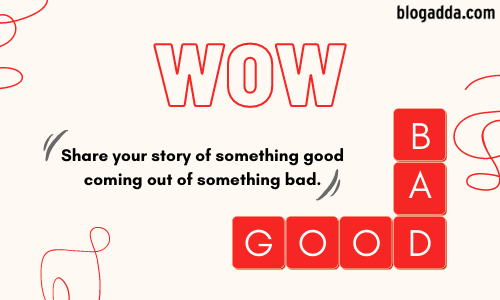 We all know the popularly used phrase "every cloud has a silver lining" when something good comes out of an event that was initially perceived as a bad event. Have you ever had one of those moments when something devastating happens in your world and it feels like your world is falling apart but in the end, you can see so much beauty in the lessons that followed?
There's a belief that when something bad happens, often something good comes out of it. The festival of Holi also signifies the triumph of good over evil. Maybe, there's a thin silver lining for COVID-19 pandemic too in the way of what we value and is important in our lives. Let us burn the negativity out of gloomy moments and focus on the positive.
For this week's WOW, we would like you to 'Share your story of something good coming out of something bad', the lessons your tough moments taught you about life, yourself, or others.
We hope you have a happy and safe Holi. Do share with us your plans to celebrate Holi this year.
Remember to submit your blogpost before Sunday midnight to be eligible as a valid entry and win a chance to display the WOW badge proudly on your blog and social networks.
Kindly add this line in your blogpost, 'This post is a part of Write Over the Weekend, an initiative for Indian Bloggers by BlogAdda.' Click on the submit button below and share your WOW entry.
Have a great weekend and a safe Holi! 🙂