Union budget. Unusual rain. IPL auction. Mars landing. Though it is the shortest month of the year, a lot has happened in the month of February. Time really does fly, we are soon going to enter the 3rd month of 2021 (stat: 15% of 2021 is complete!) This week's WOW is going to be the last for this month and we decided to mix it up! With plenty of peculiar happenings to write about, how about writing a blogpost that includes three unusual combinations?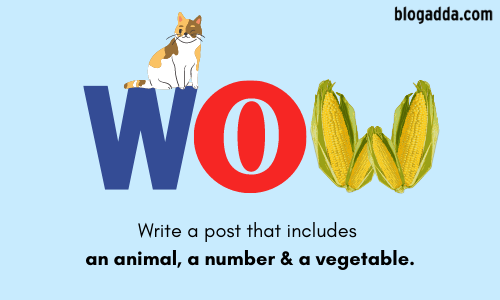 We all have come across an animal, a number, and a vegetable. Different numbers make different people feel good and happy. Some people are figuring out their animal spirit to represent themselves. Of course, we consume vegetables every day and have you ever noticed the vegetable we hate to eat is probably the most we are served with! ­čśŤ
For this week's WOW, we would like you to 'Write A Post That Includes An Animal, A Number & A Vegetable' We want you to notice these three, if you find a connection between them do let us know. You can write about your favourite animal, number, and vegetable as well. It can be a funny/mystery/thriller story or any post you like it to be. Let your creativity tap flow. You can use each of them anywhere in your blogpost, just ensure that you mark them bold.
Apart from this unusual combination, we would love to hear what amazing things happened with you this month.
If you are looking to read something interesting for this week do have a look at ouráTangy Tuesday Picks.áYou won't be disappointed :)á
Remember to submit your blogpost before Sunday midnight to be eligible as a valid entry and win a chance to display the WOW badge proudly on your blog and social networks.
Kindly add this line in your blogpost, ĹThis post is a part of Write Over the Weekend, an initiative for Indian Bloggers by BlogAdda.ĺ Click on the submit button below and share your WOW entry.
Good luck and wishing you a great weekend!á