Hello! 

We trust everyone is having a good time in this new year, and the first month of this year treated you well. As 2020 blows away, it is now time to make 2021 the start of something great. If you have spent this time of quarantine wondering about blog ideas, here is your golden chance to work on your blog and start writing again.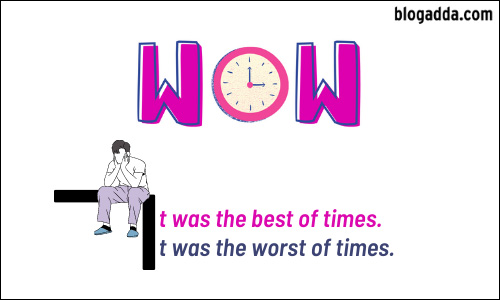 If there is anything that the last year has taught us, it is to expect the unexpected. There are personal traumas that people are dealing with, the loss of a loved one, declining health, unemployment, or tragic accidents. While for some people, this pandemic has inspired them to make permanent changes in their lives.
This weekend, for our WOW prompt we want you to use this line – 'It was the best of times. It was the worst of times'. You can use this line as a start/end of your story, split and use it separately as two sentences or use the whole line anywhere else in your post. You can fill it up with stories about a time of chaos, conflicts, and despair, as well as happiness. 
Do share your post by Sunday midnight and win a chance to proudly display the WOW badge on your blog. 

Kindly add this line in your blogpost, 'This post is a part of Write Over the Weekend, an initiative for Indian Bloggers by BlogAdda.' Click on the submit button below and share your WOW entry. Wishing you a great weekend! 🙂