What a year 2020 was! Hope you are doing good and wish that 2021, the start of a new decade, would be nice to all of us! This month, we start with a new book available for review. The author Sanjay Desai takes us through a journey of success in 'Jasmine Builds On Shifting Sands' with Jasmine's story augmented with a one-of-a-kind, e-micro learning experience! If you are interested in a unique self-help fiction, you need to apply for the book immediately!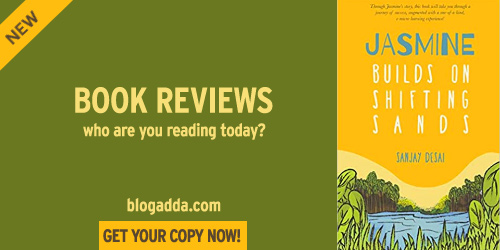 From the mystical peaks of the Himalayas to the bustling city of Mumbai, Jasmine Builds on Shifting Sands merges the lives of two individuals on a pursuit to create their own realities.
We have 50 copies (pages: 160) of this book available for members of Book Review Program. If you are interested, Apply immediately.
Overview of the book

Integrated with hybrid multimedia learning tools, Jasmine Builds on Shifting Sands is a unique self-help fiction offering. Its captivating narrative ties two seemingly distinct tales in an intertwined journey that explores the manifestation of dreams. At the center of the book is Jasmine's journey of making it as a successful model in the cut-throat world of fashion. Her tale of victory and failure is enveloped within the master narrative of Sanjay, an erudite knowledge-seeker who meets his spiritual guru – Ma. Set between the esoteric location of the Himalayas and the urban bustle of Mumbai, the book offers an enhanced learning experience which is further amplified through the embedded microlearning content that is interspersed throughout the text, making for a truly immersive experience.
About Sanjay Desai

Sanjay is an entrepreneur and an ex-banker, an alumnus of IIM Bangalore and a Chartered Accountant. During his successful career, Sanjay has been integrating the essence of a parallel spiritual journey with his material pursuits. He has now set out to share the ways and means of seamlessly traversing through the material and spiritual world. Thereby, enriching each journey.

Interested?

We want you to read the book and post the review on your blog, Amazon and Goodreads. The review should be between 350-500 words and should be posted within 7 days from the day you receive the book. In your review, tell us about the book, the writing style, the inspiring story, your likes, dislikes, expectations, takeaways and more.

For you to review this book, you need to be a registered member of BlogAdda and your blog should be approved by BlogAdda. You also need to have a registered account on Amazon India & Goodreads. If you have already signed up, then click the below link to let us know your interest in reviewing this book.